Jay-Z, Eminem, And Music's Biggest Stars In An 'Empire State Of Mind' At Yankee Stadium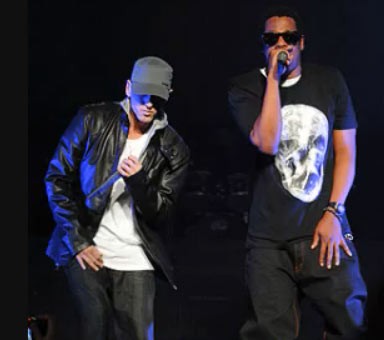 Last night, Eminem and Jay-Z turned Yankees Stadium into a more exciting, surprising, and star-studded event than the VMA's the night before. Em's priorities were clear when he ditched the MTV awards immediately after his opening performance to fly east and meet up with Jay-Z for the first of the New York concerts on Jay and Eminem's their Home and Home tour.
The show got off to a hot start with B.o.B. who did a good job with his opening set, despite the noticeable omission of his chart topping hit, "Airplanes." In a surprising twist, that tune showed up midway through Eminem's set, with the rapper throwing in a verse. It was just one of several exciting moments in Eminem's spectacular first half of the show.
Right off the top, we were reminded of Eminem's recent troubles and how this "Recovery" album was indeed a comeback of sorts for the troubled rapper, who hadn't performed at a stadium since 2004. Despite looking forward in his life, Slim Shady took a welcome walk down memory lane, revisiting favorite tracks like "Cleaning Out My Closet," "Without Me," "Stan," and "Toy Soldiers." Plus, he totally brought it home with the encore performance of "Lose Yourself." Between these hits, he performed his most recent hits, including "Not Afraid" and "Love the Way You Lie," along with a 50 Cent and Dr Dre-assisted "Crack a Bottle." D12 was also on hand for the set, which Eminem knocked right out of the ballpark… and to think, this wasn't even his hometown!
With Eminem bringing out the big guns for his set, you knew Hova was going to serve up something very special for his hometown and he did not disappoint. Right off the bat, he showed that he was all ready to "Run this Town" tonight and began the parade of stars, starting  with Kanye West who stuck around for a couple more tunes including his own, "Power" single. Also catching the later flight from the West Coast with West were Nicki Minaj and Drake who didn't let their late time slots at the VMA's keep them from joining Jay-Z on-stage.
Like Eminem, Jay-Z gave fans some past favorites like "99 Problems" and "Hard Knock Life" mixed in with his newer tracks. He brought Eminem back out and the two performed "Renegade." Fans were going nuts the whole time, and going wild over each new guest that appeared on stage, one more surprise after another. Chris Martin came out and he and Jay-Z performed "Most Kingz" and a brand new version of the Coldplay hit, "Viva La Vida" while wife, Gwyneth Paltrow danced happily in the VIP section. Not to be outdone, Jay didn't leave the wife at home, and brought out his girl, Bey to sing Mr. Hudson's vocals on "Young Forever." Beyonce did not disappoint and the stadium was absolutely euphoric as the unofficial mayor of New York brought it home with "Empire State of Mind," and a tri-fecta of hot "Encore" performances. Indeed, in that 'concrete jungle where dreams are made of' there was nothing Jay-Z couldn't do.