Jay Pharoah As Barack Obama - And Those Who Played The Other 'SNL' Presidents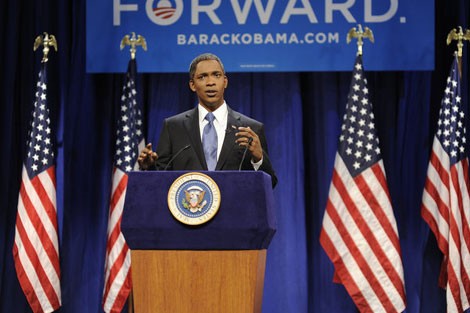 Jay Pharoah made his debut as President Barack Obama this weekend on Saturday Night Live - after being introduced by the actor he replaced in the role, Fred Armisen. Ever since the phenomenal take on the 2000 election and the debates before it, the casting of comedic takes on presidential candidates has more buzz than the next James Bond. Here's a quick history of SNL's presidents:
Fred Armisen/Jay Pharoah: Barack Obama. SNL had a decision to make when it came to casting Obama for the upcoming 2008 election. Kenan Thompson was the only African American on the cast, but his heavy build wasn't suitable for the athletic Obama. Thy instead turned to Fred Armisen - but the send-up of the presidential debates were not meant to be, as the 2008 writer's strike wiped out all the episodes after May of that year. 
Pharoah just took over as Obama last Saturday, but it's an impersonation he has been doing for a few years now in his stand-up routine - and so far has impressed. He'll be up against Jason Sudeikis, who is impersonating Mitt Romney, this fall.