'Jay Leno Show' Debuts Tonight With Guest Kanye West (Watch Video Of New Set)

It has been months since
Jay Leno
said goodbye to his home at "The Tonight Show," but the time has come for the comedian to return to television, this time in a prime time slot.
His new venture, "The Jay Leno Show," premieres tonight on NBC with celebrity guest
Jerry Seinfeld
and musical acts
Rihanna
,
Jay-Z
and
Kanye West
. Kanye made headlines at last night's Video Music Awards for interrupting
Taylor Swift
's acceptance speech for "Best Female Video."
See what he did here!
UPDATE 9/15: Watch video of Kanye West apologize on 'The Jay Leno Show' here!
"The Jay Leno Show" is a completely new idea for television. It will have a late night feel that includes a monologue, celebrity guests and music acts but will also feature special correspondents and sketch comedy.
"Everything is brand new. You just don't know what's going to work," he said about creating an entirely new show. Unlike walking on to "The Tonight Show" in 1992, Leno and his team had to test every aspect of the stage - the lights, the microphones, the set, etc. - to make sure things were perfect.
Take a video tour of 'The Jay Leno Show' set:


Obviously, things will be different than "The Tonight Show," but Leno wants the reason people watch to be the same.
"The idea is you try to have a good show. You try to have them come to the show for a specific reason - they think it's funny, they like the format, they like you - and then the guest star is the icing on the cake that makes them want to watch a little bit more," he said.
Viewers will see some of the same faces of "The Tonight Show" on "The Jay Leno Show," like Kevin Eubanks, but also a lot of new faces.
Comedian Dwayne Perkins will be featured in a skit called "White Faces in Black History" and viewers will see comedian/writer Liz Feldman teach residents at a senior citizens community how to use Twitter. Dan Finnerty of The Dan Band, a popular group who has been featured spoofing songs in movies "
The Hangover
" and "
Old School
," will also have be featured on the show regularly.
Favorite sketches will also carry over to 'The Jay Leno Show.' Leno said he plans to keep the Headlines skit on Mondays, but everything else, including Jaywalking, is fair game for all days.
New sketches include a news correspondent piece similar to Weekend Update on 'Saturday Night Live' and celebrities racing electric cars on a special race track built outside 'The Jay Leno Show' studio.
Jay Leno described his new show as a "big ten show." Leno said he wants to return to the roots of the people he watched when he was a child, such as Johnny Carson and Jack Benny, who tried to appeal to everyone instead of trying to appeal to a particular type of viewer.
"I've always said if you're a comedian you should at least attempt to make everybody in the audience laugh," he said. "You're not gonna get there, but at least you do the best you can."
For more on 'The Jay Leno Show' read the Starpulse Exclusive interview with Jay!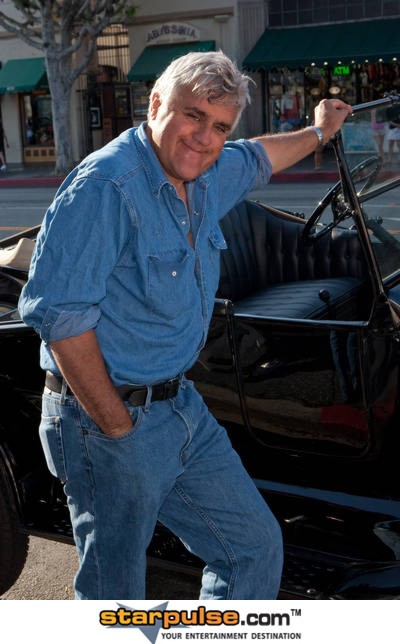 Image © Chris Hatcher / PR Photos
Story by
Amanda Hamilton
Starpulse contributing writer