Javier Colon Wins The First Season Of 'The Voice'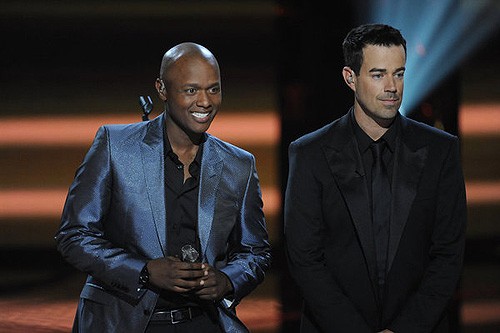 NBC's The Voice has crowned its first winner! After a heated 10-week competition, the fate of the four finalists - Dia Frampton, Beverly McClellan, Vicci Martinez and Javier Colon - was in the hands of TV viewers for the last time, with the top two finalists - Dia and Javier separated by only 2 percent of the final vote, according to host Carson Daly; but it was Connecticut native Colon who took the prize - $100,000 and a recording contract with Universal Republic.

"Wow. Thank you. I don't even know where to begin other than to say that the three women behind here are absolutely awesome," he graciously said after the big announcement.

Choking back tears, Javier added, "I want to thank everybody at home who believed in me and voted for me and [I want to thank] my family."

Javier's big win served as a victory for voice coach Adam Levine as well, as the Maroon 5 singer mentored him along the way during this inaugural season.

During Wednesday night's finale, the four finalists sang duets with some of music's biggest stars. Colon duetted with Fleetwood Mac legend Stevie Nicks on "Landslide"; Martinez with Pat Monahan on Train's classic, "Drops of Jupiter"; OneRepublic's Ryan Tedder joined Beverly McClellan on "Good Life"; and Voice coach Blake Shelton's new wife, Miranda Lambert sang her smash hit "The House That Built Me" with Frampton.

The Voice is modeled after The Voice of Holland, a popular singing talent search in the Netherlands.
Check out our full recap of the show, right here!
Watch the winning moment: