Jason 'Wee Man' Acuna Gets Ryan Dunn's Face Tattooed On His Leg (Video)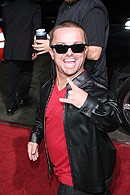 Jackass star Ryan Dunn's castmate Jason 'Wee Man' Acuna has paid tribute to his tragic pal with a new tattoo.

Dunn was killed in a car crash on Monday morning and Acuna has honored the daredevil by having his face tattooed on his leg.

Wee Man has posted footage of his new skin art online.

He says, "It's something he'd probably do for anyone of us if it was one of us in the situation.

"I wish I was losing a bet... and Dunn was still here."