Jason Sudeikis: 'I'm About To Be A Dad!'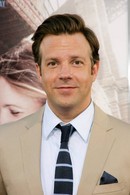 Comedian Jason Sudeikis had gossips dashing to their computers on Sunday night as he poked fun at ex-girlfriend January Jones' baby news.
 
The Mad Men star split from the funnyman earlier this year just before announcing she was pregnant. Bloggers speculated that the father was Sudeikis, but neither of the former lovers would confirm or deny the rumors.

However, during an awkward skit at the MTV Movie Awards, which Sudeikis was hosting, he let it slip that he could be the father - as his Horrible Bosses co-stars, Charlie Day and Jason Bateman, took the stage to criticize his performance.

The comedian said, "Look, I have a lot of pressure on me. I've 10 minutes left of the show, I might be a dad soon..."

Stunned Day said, "What...? I'm tweeting it... You're gonna be a dad?"