Jason Segel Takes Serenading Superfan Chelsea Gill As Date To Awards Show (Watch Her Video)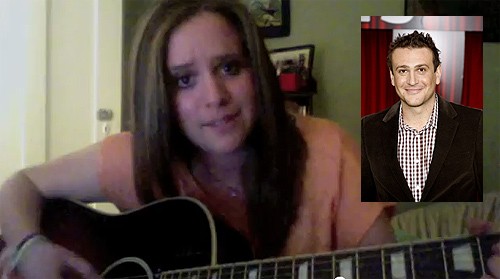 Jason Segel was left speechelss after superfan Chelsea Gill serenaded him with a song she wrote on Youtube. In the song she asks him to "just have a drink with me before this year ends" - but Jason did one better - he took her as his date to the Chicago Film Critics Association awards on Saturday night.

The tune includes clever lyrics like, "Now I know you're super busy, what with Sarah Marshall and Miss Piggy/ But I swear I'm worth your time, just wait and see. Now I know what you're thinking, another crazy girl with heightened feelings/ But I swear I'm sane, tested, and disease-free" - and the comedian gushed about it on Twitter.

"My favorite thing, maybe ever. I am in awe," he said.

And Chelsea's efforts paid off and she and her twin sister accompanied the star to the awards ceremony and afterparty.

Late Saturday night Jason gave an update on his 'date with twins,' Tweeting, "Picture on the way but Chelsea Gill who wrote the awesome song and her twin sister came to the awards tonight. They were the COOLEST!!"

The Muppets star was honored with the 'Commedia Extraordinaire Award.'

"I am honored to get comedian of the year and screenwriter," he says. "(Director) Nick Stoller shares this with me. My partner in crime since Sarah Marshall."