Jason Mraz Calls Off Engagement With Tristan Prettyman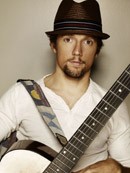 Singer/songwriter Jason Mraz has split from his fiancée Tristan Prettyman.

The I'm Yours star proposed to fellow singer Prettyman in December, but subsequently insisted they would not be walking down the aisle until gay marriage is legalized in the U.S.

However, Mraz has now confirmed the engagement is off and he has blamed his heavy workload for the split, telling The Daily Beast, "My greatest mistake right now is, I've been clinging to my art. In that, I have victory for my art and a great loss for my heart. At the moment, my beautiful fiancée is no longer my beautiful fiancée."

"Two halves don't make a whole. Two wholes make a whole. In my relationship, I was giving myself away to make the relationship better, but in actuality, wasn't doing better by doing that. I became less of a man."

Nonetheless, Mraz is adamant the break up was amicable and they are even still attending yoga classes together. He adds, "We are still super friends, we go to yoga together, we surf together. We acknowledge the journey that each of us is on. We certainly want each of us to feel whole and complete. And it's when you're whole and complete that that attraction exists and it really thrives."