Jason Momoa: 'I Didn't Want My Wife To See 'Game Of Thrones''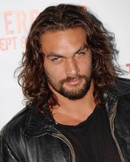 Action man Jason Momoa didn't want his wife Lisa Bonet to watch him portray a savage warrior in TV series Game Of Thrones - because his sex scenes with Emilia Clarke were often coarse and barbaric.
 
The towering actor played fierce Khal Drogo in the small screen adaptation of author George R. R. Martin's fantasy novels, A Song of Ice and Fire, while British actress Clarke portrayed his pretty virgin bride.

And Momoa feared his wife, who was previously married to rocker Lenny Kravitz, would be turned off the medieval series if she saw how badly his character treated his partner during their explicit sex scenes, so he refused to attend the series premiere.
 
However, that didn't keep Bonet from investigating.
 
He tells the New York Daily News, "I didn't want my wife to see Game of Thrones and she ended up becoming obsessed. She was dreaming about it, she was so obsessed. We didn't go to the premiere."

"I was like, 'I don't do anything but do (have sex with) Emilia Clarke for the first two episodes. I don't even speak. We don't need to go.'"