Jason Momoa Brandishes His Big Sword At Hand Print Ceremony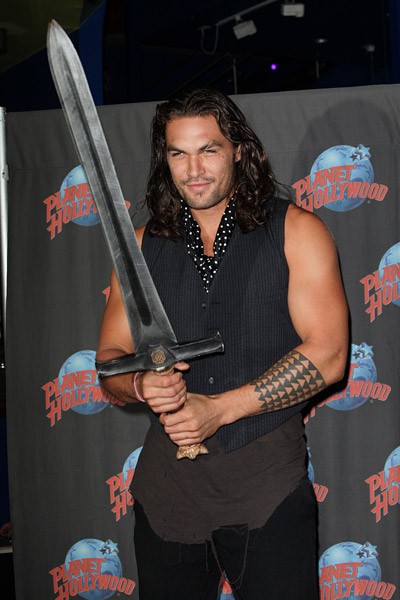 Jason Momoa promoted "Conan the Barbarian" with a hand print ceremony at Planet Hollywood in Times Square New York City yesterday.
The actor, who also depicted Khal Drogo in HBO's Game of Thrones, did a lot of research for his role in "Conan" for the sword fighting scenes. He explained, "I studied a lot of samurai films. I wanted to incorporate that, to take a broadsword and to wield it like a samurai sword was something that I wanted to do, so I studied a lot of films. I did everything, like reverse grip, and I just wanted to put that Asian influence into this Barbarian thing, bring some grace to it."
In the film, when a powerful force of supernatural evil threatens to destroy Hyboria, legendary Cimmerian warrior Conan (Momoa) raises his sword against mythical monsters and treacherous enemies.