Jason Gray-Stanford Is 'The Husband She Met Online'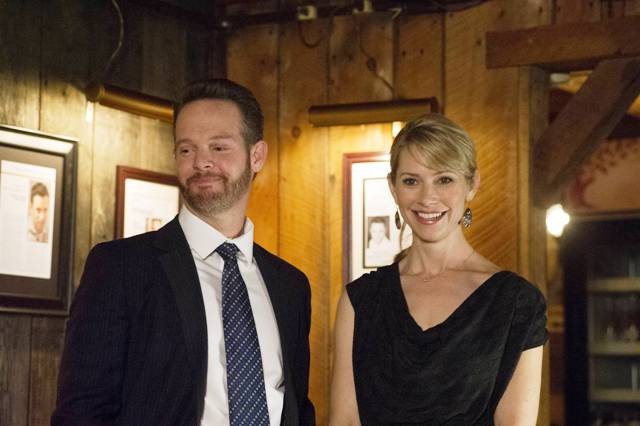 We've always liked Jason Gray-Stanford; he's a talented actor, and a likeable guy. That's why it's so jarring to see him play an antagonist in Saturday's Lifetime TV-movie, The Husband She Met Online. He's way against type as Craig, who Rachel (Meredith Monroe, pictured above with Jason) thinks is the man of her dreams - until she really gets to know him. BFTV recently sat down with Jason to chat about the movie, how much of a departure he thinks it is for him, and what else this underrated actor has coming up.
It's different for us to imagine him in this part, but how does it feel for him to take it on? "As an actor, it's always a blessing to do a variety of different types of roles," Jason told us. "I'm probably most well known for playing the loveable Randy Disher on Monk for many years. After leaving a show like that, to do almost anything different is kind of what you yearn for. To do this role, to appear like a nice guy, but to really have a lot of problems underneath, is great."
The Husband She Met Online isn't the first movie to deal with a woman discovering that her significant other isn't what he appears to be, so we asked Jason what he thought made it different from others in the same genre. "The characters. The two main characters," he explained. "Because I think in this particular movie, it's a little grey. The grey area is there. Yes, he's a disturbed guy but he really, really does love her. He's not just a crazy guy. They go through moments in the movie where you might actually root for them to work out. Lots of the ones that are out there, it's very black and white."
Another plus is the talent that's involved. He also praised his co-star in the movie, telling us that "Meredith Monroe was delightful."
As previously mentioned, Jason's always going to be the adorable Randy Disher from USA's Monk to a lot of people. However, he's been quietly building a resume of great, if not necessarily well-known, performances for years. He appeared in the Academy Award-winning film A Beautiful Mind, and in Steven Spielberg's epic sci-fi miniseries Taken, just to name a few. You can also see him starring in this music video for "Sunset Blvd.," as performed by actor-musician Scott Grimes of ER and American Dad fame.
Since we'd love to see people take more notice of him, we asked Jason which roles he'd want people to check out. "One comes to mind right off the top," he said. "I did a movie called Lonely Hearts a few years ago with John Travolta and James Gandolfini. It was a crime thriller set in the 40's about tracking down a serial killer. It was a great movie. I was very proud to be a part of that movie.
"I've actually been pretty lucky that the movies I've made have kind of gotten out there," he continued. "I have a really cool movie coming out next year called Echo. I want people to watch Justified; I just started working on season five." He joins previously announced guest stars A.J. Buckley, Michael Rapaport, Edi Gathegi, and Alicia Witt, as the FX drama is expected to return sometime in January 2014.
Jason was a pleasant surprise on another cable drama recently, playing the recurring role of Chelsea General Hospital legal counsel Scott Henderson on TNT's brilliant but cancelled Monday Mornings. "Speaking of shows that I wish people would've seen more, Monday Mornings is one. That was a truly, truly terrific show," he said, telling us about his experience on that series.
"Yet again I got to play a character which is very different - a smart, fast-talking, pragmatic, by the book hospital staff attorney. I got to work with terrific actors; it was a wonderful cast, it was great writing, [Creator] David Kelley I did my very first movie for, Mystery Alaska, and I got to reunite with him. I really enjoyed that job."
While we'd love to see him find another breakout role, Jason's ambitions also involve working behind the camera. "Moreso than acting, I would really love to start directing and producing. I have a couple of things in the works that I would really love to get off the ground," he told us. "But as an actor, I kind of like not knowing what character is going to come next. I don't have anything that I'm destined to do."
Off-camera, Jason and his wife, Mistresses star Jes Macallan, are both animal advocates. "We're ambassadors for the Best Friends Animal Society," he told us.
Jason has established himself as one of the great underrated actors working today; no matter who he's playing, or if it's for a movie or a minute, he's one of those folks that you know will always give a good performance. He's not a household name, but hopefully one of these days, he will be. And we're just glad to have him back on our television screens this weekend.
The Husband She Met Online airs Saturday at 8 PM ET/PT on Lifetime.
(c)2013 Brittany Frederick. Appears at Starpulse with permission. All rights reserved. No reproduction permitted. Visit my official website and follow me on Twitter at @tvbrittanyf.