Jason Derulo Writes Song About His Alleged Stalker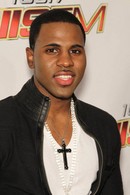 Jason Derulo found an unusual source of inspiration for his new album - the R&B star has written a song about his alleged stalker.

The singer's track Be Careful was inspired by a fling that turned "very scary" when the unnamed woman began following him around.

However, Derulo insists he is to blame for the terrifying encounter since he willingly embarked on the short-lived romance.

He tells Digital Spy, "The record's full of different songs. I mean, there's a song I wrote about a stalker on there. It was very scary. It started out being what I thought was a one-night stand, but it turned into something much different. It was partly my fault - I can't point all the blame to her."

Be Careful features on the star's upcoming second album Future History, due later this month.