Jason Derulo Confirms Jordin Sparks Romance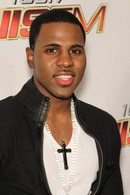 Jason Derulo has confirmed longstanding reports he's dating Jordin Sparks, revealing the couple has "gotten closer" since he fractured a vertebrae in his neck earlier this month.

The No Air hit-maker was first linked to the R&B star in September, when insiders claimed they appeared cozy at Derulo's 22nd birthday party.

Derulo insisted he was "just friends" with the singer, but he's now admitted they are in a relationship - and their bond has grown even stronger since his accident, which has left him sporting a neck brace.

He tells People.com, "We are together. She lives in Phoenix and she comes (to Miami) and takes care of me, brings me breakfast in bed and she'll go on walks with me. We've gotten closer because of my accident. It's awesome to have someone you can talk to and she's a wonderful person."

Speaking about his recovery from the injury, which he sustained after falling on his head while practicing a high-energy routine for his show, Derulo adds, "I'm taking it one day at a time. It's been really eye opening. It's given me a chance to look at everything and realize how blessed I truly am."