Jason Castro's Debut: File Under 'Worst Album Covers Of All Time'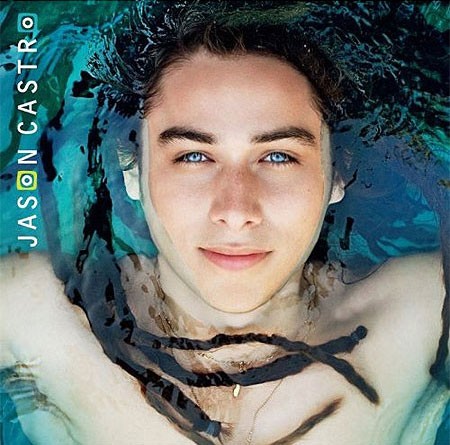 Atlantic recording artist Jason Castro has unveiled details of his much-anticipated debut LP.  "Jason Castro" arrives in stores and at all online retailers on April 13th.

The self-titled album will be preceded by the new single, "That's What I'm Here For."  The track hit Hot AC radio outlets nationwide on March 8th.  That same day would also see "That's What I'm Here For" - coupled with an exclusive rendition of "Somewhere Over The Rainbow," one of the songs that helped earn him a third-runner up finish on the 2008 season of Fox's "American Idol" - go on sale at digital retailers everywhere.

What's more, Castro performed both songs on ABC's special, "The Bachelor:  Jason & Molly's Wedding", from Warner Horizon Television.  The two-hour television event aired Monday, March 8th.

"Jason Castro" brims with toe-tapping pop, strummy folk, and electrifying rock ("Closer," "Heart of Stone") - all cleverly balanced, rooted in the classic, melody-minded singer-songwriter tradition, with heart-on-sleeve lyrics and acoustic guitar-driven arrangements.  Featured alongside unabashedly emotional tunes like "Love Uncompromised" and the buoyant first single, "Let's Just Fall In Love Again" is a stunning version of Leonard Cohen's "Hallelujah" (which Castro performed on "American Idol", citing Jeff Buckley's version as a huge inspiration to him as an artist).

To fully capture the moods he wanted, Castro collaborated with producer Eric Rosse (Sara Bareilles, Tori Amos) and a host of top-notch songwriters - including Marc Roberge of O.A.R., Gregg Wattenberg (Five For Fighting), Zac Maloy (David Cook), and Espionage (Train) - all of whom helped make "Jason Castro" an ideal showcase for his considerable gifts as a vocalist, songwriter, and musician.

"I feel like the album really captures my personality," Jason says. "People got to know me a bit on the show, so I wanted to build on that by including all these songs I've written about my life. I wanted to share with people the things that are meaningful to me."

 "Jason Castro" follows Castro's acclaimed "The Love Uncompromised EP," which immediately shot to the Top 5 on the iTunes album chart upon its January release.  The five track EP - highlighted by three of the album's brightest moments, including "You Can Always Come Home," a tender duet featuring Atlantic labelmate Serena Ryder - was immediately hailed in the New York Times as being "among the most sure-footed records, debut or otherwise, by an 'Idol' contestant from any season."
 
The Texas-based tunesmith has just wrapped a major US tour, his first full-fledged trek in support of his own music.  Jason received rapturous reviews along the way, with the New York Times declaring his set "magnetic…1960s pop with bright guitars, slashed through with a contrarian streak… Jack Johnson and Jason Mraz should be nervous."  A full-scale US tour in support of "Jason Castro" will be announced shortly.