Jason Biggs Gets Vulgar With 'American Reunion' Cast In Woolloomooloo (Photos)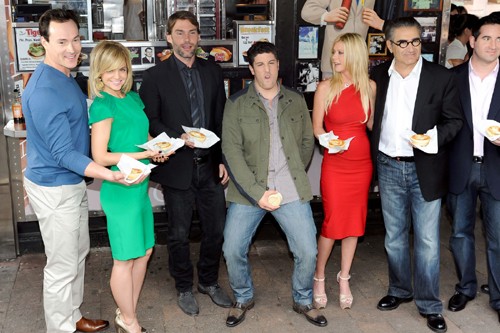 Tara Reid, Jason Biggs, and several of their castmates attended a photocall for "American Reunion" at Harry's Cafe de Wheels in Woolloomooloo, Australia, yesterday. As you can see, Biggs acted like a kid and had some fun in front of the cameras.
In the film the characters from the 1999 comedy classic return home for their 10-year high school reunion. Some couples got married while others went their separate ways. Then there's Finch (Eddie Kaye Thomas), who still remembers that perfect evening he spent with Stifler's mom.
Seann William Scott, Jason Biggs, Alyson Hannigan, Chris Klein, Mena Suvari, Thomas Ian Nicholas, Shannon Elizabeth, Eugene Levy, and Natasha Lyonne also star.
Check out more photos of Tara and some of the other "American Pie" stars...