Jason Biggs and Isla Fisher Star In 'Wedding Daze,' On DVD January 15

Two complete strangers find themselves engaged in the riotous comedy Wedding Daze premiering on DVD January 15 from MGM Home Entertainment. Starring
Jason Biggs
(
American Pie
) and
Isla Fisher
(
Wedding Crashers
),
Wedding Daze
is funnyman Michael Ian Black's (
Reno 911!: Miami
) feature film directorial debut.
This edgy comedy follows Anderson (Biggs) who is convinced he'll never fall in love again after suddenly losing "the perfect girlfriend." At the urging of his best friend, he spontaneously proposes to a neurotic coffee shop waitress named Katie (Fisher). Hilarity ensues as the newly engaged couple must now try to find a way to get along.
With unexpected plot twists, this absurdly funny film features a terrific ensemble cast including Michael Weston (
The Last Kiss
,
The Dukes Of Hazzard
),
Joe Pantoliano
(
The Matrix
, "
The Sopranos
"),
Joanna Gleason
("
The West Wing
," "Bette") and
Edward Herrmann
("
The Gilmore Girls
,"
I Think I Love My Wife
). The DVD features new bonus material including several deleted and alternate scenes.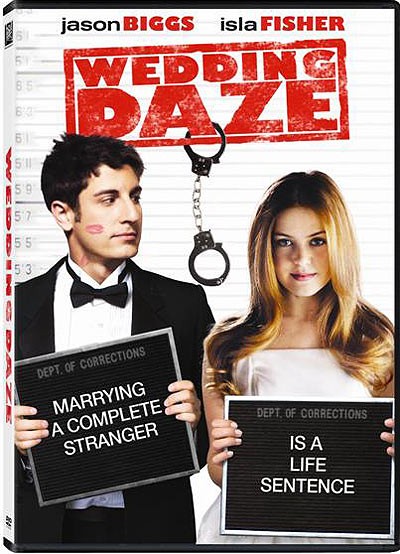 DVD Special Features:
-Both widescreen (1.85:1 aspect ratio) and full screen versions in English Dolby Surround 5.1 audio with English, French and Spanish subtitles.
- Deleted and Alternate Scenes
- Dancer (Alternate Opening)
- Heart Explode
- Eating Chicken
About Metro-Goldwyn-Mayer Inc.: Metro-Goldwyn-Mayer Inc., through its operating subsidiaries, is actively engaged in the worldwide production and distribution of motion pictures, television programming, home video, interactive media, music and licensed merchandise. The company owns the world's largest library of modern films, comprising around 4,100 titles. Operating units include Metro-Goldwyn-Mayer Studios Inc., Metro-Goldwyn-Mayer Pictures Inc., United Artists Films Inc., Ventanazul, MGM Television Entertainment Inc., MGM Networks Inc., MGM Domestic Networks LLC, MGM Distribution Co., MGM International Television Distribution Inc., Metro-Goldwyn-Mayer Home Entertainment LLC, MGM ON STAGE, MGM Music, MGM Worldwide Digital Media, MGM Consumer Products and MGM Interactive. In addition, MGM has ownership interests in international TV channels reaching nearly 120 countries. MGM ownership is as follows: Providence Equity Partners (29%), TPG (21%), Sony Corporation of America (20%), Comcast (20%), DLJ Merchant Banking Partners (7%) and Quadrangle Group (3%). For more information, visit www.mgm.com.
A recognized global industry leader, Twentieth Century Fox Home Entertainment LLC (TCFHE) is the worldwide marketing, sales and distribution company for all Fox film and television programming on VHS, DVD and Blu-ray Disc (BD) as well as acquisitions and original productions. The company also releases all VHS and DVD products around the globe for MGM Home Entertainment. Each year TCFHE introduces hundreds of new and newly enhanced products, which it services to retail outlets from mass merchants and warehouse clubs to specialty stores and e-commerce throughout the world. Twentieth Century Fox Home Entertainment LLC is a subsidiary of Twentieth Century Fox Film Corporation, a News Corporation company.