Jason Bateman, Will Forte, Ed Helms And Jason Sudeikis Star In Mumford & Sons' 'Hopeless Wanderer'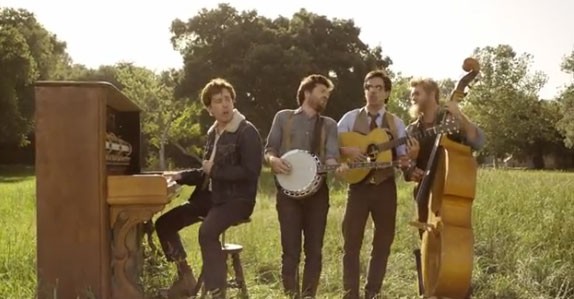 Mumford & Sons hired a few body doubles for their latest music video, "Hopeless Wanderer."
Jason Bateman, Will Forte, Ed Helms and Jason Sudeikis star in a video poking fun at the folk rock band, although it isn't obvious at first. It seems like a normal music video, even if the faces of the band members are obscured by the glaring son or sneaky camera edits.
Once the stars are revealed, the music video still retains some authenticity, even if you can get over Will Forte's awesome beard tribute to Ted Dwane and a few lustful stares. However, around the three-minute mark, things begin to get off the deep end.
Without spoiling anything, let's just say the boys get a bad case of cabin fever.
Mumford & Sons is already working on their next album. "Will we wait years for the next album? F---, no. You heard it here first. We've just started working on new songs, got a rehearsal studio. They're bones of songs, but really exciting bones. Sturdy bones," Winston Marshall told NME in December.