Jared Padalecki Appeals For Hospital Donations Instead Of Baby Gifts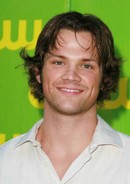 Supernatural star Jared Padalecki has been left overwhelmed after fans donated $25,000 to a children's charity in lieu of buying the dad-to-be baby presents.

The actor's wife and former co-star Genevieve is preparing to give birth to their first child, a boy, next month.

Following their happy announcement, Padalecki asked his followers to give money to St. Jude Children's Research Hospital instead of buying the couple gifts, telling them, "Lets make the world a brighter place for those not as fortunate."

Fans set up an online fundraising page, and Padalecki is stunned by the news that $25,000 has so far been donated in his name.

Linking to news of the collection total on his Twitter.com page, the actor simply declares: "WOW!!"