Jared Foles: Guitarist, Music Producer & Engineer Extraordinaire

Across the Brooklyn Bridge with your back facing Manhattan there is a rich history of artistic individuals who range from musicians to performing artists. Brewing in Brooklyn is a pool of talented hopefuls with an invaluable appeal.
Kings County native
Jared Foles
takes pride in representing his home borough. The Bed-Stuy-raised lead guitarist of rock group Shrine for the Black Madonna found his musical roots at the young age of five. However, once his adolescent years kicked in that musical appreciation took a back seat as sports and those typical things that teenagers do during those tender years took over.
It wouldn't be until his mid 20s that he would pursue music as a profession. With his guitar and inner drive several opportunities opened that ran parallel with learning the "ins and outs" to operating a label and recording studio.
In 2000 he created World Eater Recordings to serve as both the hub for his music projects and as a recording studio for music artists. Groups like Letha, Madafi, Marge St. Juste, G.A.M.E. Rebellion, Monstah Black, My Pet Dragon, The Velveteen Jacket and many others have utilized both Jared's studio as well as his expertise as a sound and mixing engineer. Not only is he an engineer, he's also a noted composer, producer and guitarist. As a producer, he counts the influences of greats
Ray Charles
,
Quincy Jones
,
The RZA
,
Rick Rubin
, Roger Bainwater of
Black Sabbath
and Terry Date &
Vinnie Paul
of
Pantera
and others for helping foster his strengths as a producer.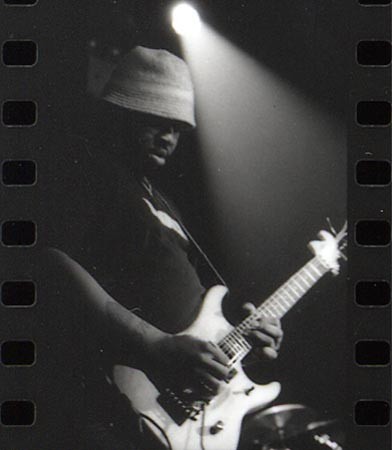 Much of that production prowess is heard on the latest album from his group Shrine for the Black Madonna that debuted in 2007. The double album labeled Paradise and Inferno features him and his band mates giving a musical collage of ear drum rammings that leave you deaf with excitement but amazed at the same time.
With a hearty helping of fans that admire the production and artistic techniques of that album it's no wonder that many want to work with Jared. His studio, which was created with in the independent artist in mind, is a space that doesn't have the high rates of other typical studios. Located in Bed-Stuy along a bohemian-like block that is landscaped with trendy coffee spots offering wi-fi and tea biscuits, vibrant bodegas and lengthy rows of Brownstones, the studio is a platform for any artist in any genre to make music.
So if you're a fan of good music, in need of a great studio, and live in the NYC area, check out
Jared Foles
and his
World Eater Recordings
.
Story by
Seneca "The Beast" Doss
Starpulse contributing writer