January Jones Advises New Mothers To Eat Their Placenta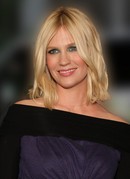 New mother January Jones found an unusual way to boost her energy levels after giving birth - she had her placenta turned into vitamin capsules.

The Hollywood beauty gave birth to her son Xander last September, but skipped maternity leave to work on the fifth series of hit TV show Mad Men.
She now reveals she endured the busy period with the help of placenta pills.

She tells People.com, "I have a great doula (labor coach) who makes sure I'm eating well, with vitamins and teas and with placenta capsulation. Your placenta gets dehydrated and made into vitamins. It's something I was very hesitant about, but we're only the only mammals who don't ingest out own placentas.

"It's not witch-crafty or anything! I suggest it to all moms!"