Jani Lane Remembered At Memorial Service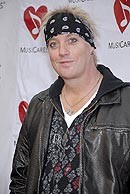 Jani Lane's close family and friends gathered at a church in Ohio over the weekend to remember the late rocker at a private memorial service.

The body of the former Warrant singer was found at the Comfort Inn hotel in Woodland Hills, Los Angeles on August 11th, prompting an outpouring of tributes from stars including Nikki Sixx and Slash.
A string of old school rock bands, including Great White, Quiet Riot and Enuff Z'nuff, have announced a memorial gig for Lane, to be held at the Key Club in Hollywood later this month.

And on Saturday Lane was remembered by around 100 of his loved ones as they gathered for an 85-minute service at Crossroads Community Church in Doylestown, where his cousin Adam Gable is a member.

Gable tells The North Royalton Post, "We had hundreds of requests. We wanted to keep it very intimate, for family and close friends."

Lane's sister Michelle Robinson adds, "Heroes are remembered and legends never die. And that's true. He always enjoyed being the star and being the frontman. He would enjoy this."

An initial autopsy examination on Lane proved inconclusive and experts are waiting on the results of toxicology tests.