Janet Jackson Plays Coy About 'X Factor' Rumors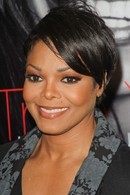 Janet Jackson has fueled rumors she is in talks to join the judging panel of Simon Cowell's reality show The X Factor by refusing to answer questions about the subject during a TV interview.

Paula Abdul and Nicole Scherzinger, who had served as judges on the first season of U.S. version of the program last year, recently left the panel and Cowell is now looking for famous faces to fill the vacant slots.

The "Nasty" hitmaker is rumored to be in the running and she fueled the speculation during an interview with newsman Anderson Cooper earlier this week when she tried to skirt around the topic.

Asked if the TV rumors are true, Jackson laughed and said, "Oh my God. No, I'm not a judge on The X Factor."

But Cooper refused to let the issue go and continued to probe, stating, "You're not currently a judge on The X Factor," to which the R&B superstar replied, "No, I am not. But that's all I really think I should say."

Cooper's chat with Jackson is due to air on his talk show Anderson on Monday.

Ironically, Jackson was Abdul's boss in the 1980s after hiring her to choreograph several of her music videos.