Jane's Addiction Conjure Up Ancient Sounds On New Track

Rockers Jane's Addiction have teamed up with a group of Moroccan world musicians for an exotic new track.

Singer Perry Farrell, guitarist Dave Navarro and drummer Stephen Perkins have recorded "End To The Lies" with the legendary The Master Musicians of Joujouka.

The 14 village musicians hail from the Ahl Srif mountain range of the southern Rif Mountains in northern Morocco; they are Sufi trance artists who use reed, pipe and percussion to create drones and complex rhythms.

Late Rolling Stones star Brian Jones recorded them in 1968 for his album Brian Jones Presents the Pipes of Pan at Joujouka.

Farrell says, "We wanted to add a sense of ancient ritual and some depth beyond normal instrumentation, getting off the typical path that rock bands use."

The band took producer Rich Costey and temporary bassist Dave Sitek to Joujouka to record the sounds.

He adds, "It was all recorded in the Master Musicians Madrassa (school house) which is out in the village of Joujouka near Morocco where they live. The drums were recorded in the kitchen and the rhiatas in the main room of the house."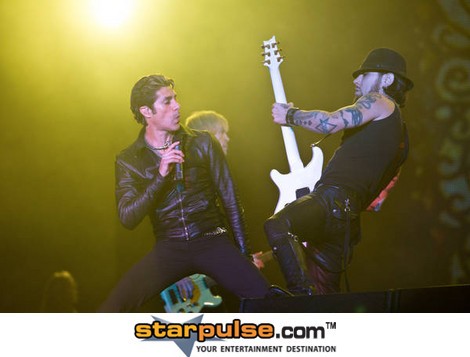 Click for more great Jane's Addiction pictures: