Janell, Ashley, Joe & Tyler Kicked Off 'American Idol'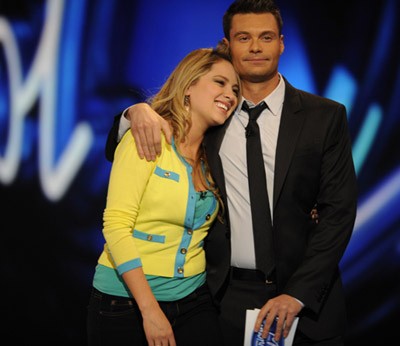 In a week of firsts on "Idol" we get to the first live vote off show - with many questions to answer.  How will Ryan delay the results, how will the cast-offs react, how will Simon rub salt in the wounds, how awkward will the medley look, and, most importantly, what current pop stars will they trot out of whom I've never heard?  The answer to all those questions and more, right now - This.  Is the "American Idol" recap.

Well, the answer to the medley question is very.  Or maybe incredibly.  In recent years this competition has gotten farther away from the prospective pop stars like a Justin Guarini who can sing and dance a little bit and gotten a lot more singer/songwriter-centric.  The result are even more clumsy dance performances, perfectly embodied by Casey shrugging and looking at the camera as if to say, "Why in the world am I forced to do this?"

They waste absolutely no time kicking the kids off the show lsat night, dropping the ax a mere 14 minutes in.  That's what's great about these early results shows - so many heads on the chopping block means so little filler.  And with Janelle hitting the road, I am one-for-one on my predictions.

Of course, it can't be all voting off (though that would be a sadistic treat, remember the 30-minute results shows?) so we meet tonight's first pop star, and luckily for my embarrassment quotient, it's Allison Iraheta, who I certainly remember from last year (she was my personal favorite).  I don't know what this song is, but it sounds like the equivalent of what I imagine a mescaline overdose to feel like and the gloves she's wearing look like the equipment for a drag queen MMA match.  At least she sounds good - I'd say she's a close equivalent to Pink.

Moving onto the bottom row, my predictions rang true in that sympathy carried the lambasted Lacey through to the next round - never underestimate how sorry America feels for a singer getting ruthlessly pummeled by the judges.  They held true all the way through the ladies as well, as Ashley bit the dust and then gave an interview that may have set a record for the distance between tone of voice and the words being said, maybe the angriest I've ever head somebody thank the country.  Then she gave a performance that was kind of the equivalent to one of those people in the early rounds that start angrily singing a song they weren't asked to sing.  Castoffs are usually sad when they hit the road on this show, but Ashley is the first to show real rage and disgust.  It was actually refreshing.

Coming back we're greeted by a very disturbing "Idol" video - Tyler dancing around in a bathrobe and socks during rehearsal.  I'm sure everybody's a bit miffed at having to see that.

My predictions come up short for the first time, as John stays safe despite being ruthlessly slow-rolled by Ryan.  Instead, America sent home Joe, which I thought was a bit of a stunning move, but one that wasn't entirely unforeseeable (to quote "In The Loop").  He gave a solid performance last night, but I guess it just kind of got lost in the middle of the show.  He certainly didn't deserve to go home, but here we are.

The second performance of the night belonged to another "Idol", this time last year's winner Kris Allen, who gave a sterling rendition of "Let It Be" playing over a video of him helping out in Haiti.  Clearly the highlight of the evening by a longshot.  It wasn't quite Justin Timberlake and Matt Morris running a wrecking ball through "Hallelujah" on the Hope For Haiti Telethon, but this was definitely in that class.

I guess it pays to be memorably eviscerated by the judges, because my other predicted castoff, Jermaine, hangs on for another week after screeching his way through an Oleta Adams song.  That means it came down to the denizen of the mullet and sire of the seventies, and we finally got to hear Simon voice his opinion on who he thought was going home (something that I think should be a part of every final moment - as it's so perfectly wicked to hear him plainly say, "Tyler - I think it's the end.")

Simon was right, as Tyler hits the road next to a shocked Alex who dropped many an expletive on his way out.  Something bleeped out of every telecast.  You stay classy, Mr. Mullet.

So it's a couple of surprises from the guys and a couple of predictable pushovers from the girls.  And with that, "Idol" has officially begun.
Check out more American Idol photos here!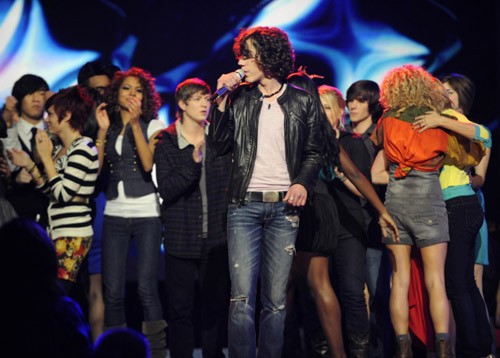 Story by Andrew Payne
Starpulse contributing writer