Jane Lynch Is Honored With Hollywood Walk Of Fame Star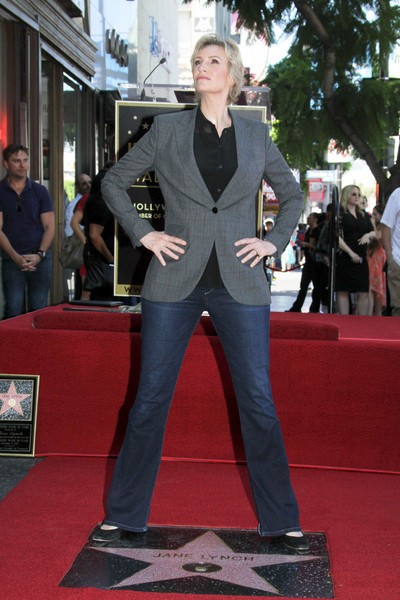 "Glee" star Jane Lynch was notably excited on Wednesday when she was presented with a star on the Hollywood Walk of Fame. Family members and friends joined the actress as she unveiled the 2,505th star on the famous sidewalk.
She struck various poses on the red carpet, looking proud and pointing to her accomplishment in front of photographers. In one iconic picture, she leans against a tree in a pose reminiscent of a high school yearbook shot.
 
"Glee" creator and producer Ryan Murphy told the crowd, "She is the hardest-working person on the set... She makes everybody better and everybody happier. She is one of the comedy greats in our business - a true class act."
Following the presentation, Lynch tweeted a photo of the plaque with the caption: "Here she is. Mind blown."
The actress plays mean cheerleading coach Sue Sylvester on the program. Last month she read the script for the Cory Monteith tribute episode and shared with fans that it was the "most beautiful thing."  Monteith died on July 31 in Vancouver, Canada, from a heroin and alcohol overdose.
The fifth season of "Glee" premieres Thursday, Sept. 26 at 9 p.m. on Fox. And "Glee: Season 4" streets October 1 courtesy of Twentieth Century Fox Entertainment.