Jane Lynch: 'I Had A Crush On Ron Howard'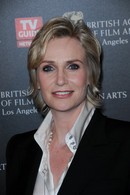 A tearful Jane Lynch met her childhood crush Ron Howard for the very first time on TV on Monday.

The gay Glee star has often discussed her longtime affection for Howard, who played innocent Richie Cunningham on the popular sitcom Happy Days when she was growing up, but never got the chance to meet him face-to-face.

That changed while she was promoting her memoirs on Late Night With Jimmy Fallon when the host booked the two celebrities on the same show.

Expressing her delight, she said, "Like every closeted lesbian in the 1970s, I had a crush on Ron Howard. It's the truth. All gay girls have a crush on a very safe, kind of, non-sexually threatening person. Today he's all man, he's a wild man now. But when he was young he was very pure...

"I adored him. Not only did I take (his) pictures out of magazines, but I drew pictures of him. I know every angle of his face."

And walking onstage to greet Lynch, the Apollo 13 director handed his number one fan a bouquet of red roses and joked, "I hope our wives will understand. I needed to make a romantic gesture. I don't entirely understand the function I served in your life, but I'm glad if I did."

Overcome with emotion, Lynch responded, "Thank you, I so appreciate it, I cannot tell you."