Jane Lynch Brings Her Hosting Skills To NBC's 'Hollywood Game Night'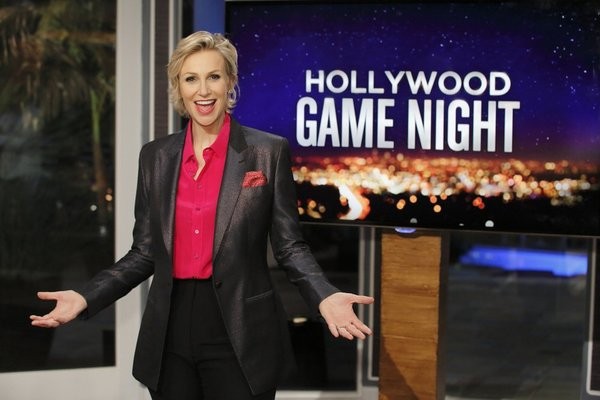 NBC's Hollywood Game Night is bringing back old school game show glamour to television with the help of host Jane Lynch. The Glee actress and current Miss Hannigan in Annie on Broadway can add another line to her impressive resume with a different kind of program. Part game show, part comedy hour, part interactive game night at home with your friends, Hollywood Game Night combines elements of entertainment programming for a unique competition show unlike anything else on television.
The show comes from the mind – and backyard – of executive producer Sean Hayes, who has hosted legendary game nights for groups of his celebrity friends at his house in the Hollywood Hills. Hayes has become even more famous among his friends for these parties, where people can get together to have a drink, catch up, and play games like Celebrity or charades for hours on end.
With Hollywood Game Night, Hayes and friends will compete in two teams, along with one lucky contestant selected for each side, in a series of hilarious and original party games. The contestant on the winning team gets the added bonus of taking home a cool $25,000, along with the opportunity of a lifetime to bump shoulders with celebrities like Amy Poehler, Kristen Bell and Jason Sudeikis. Host Jane Lynch has had plenty of experience herself competing at Hayes' infamous gatherings, so she knew what she was getting herself into.
"I've known Sean a long time," Lynch says. "I have a great time at his game nights and he was having dinner over at my house and he mentioned that his show got picked by NBC. Before I knew it I was on board to [host]."
Like her infamous Glee alter ego, Sue Sylvester, Lynch is hyper competitive in real life – and isn't afraid to kick a little butt when it comes to her favorite party games.
"Luckily for everybody involved, I'm hosting, so I'm not on any team but I do love game night," she says. "You want me on your team. You do not want to play against me."
Hollywood Game Night's party games aren't your typical rounds of charades or "name that tune." According to Lynch, every game that the contestants play on Hollywood Game Night is an original activity crafted for the ultimate fun night.
"There's no tall story on this. There're no Shakespeare references. It's really all just pop culture," Lynch says. "We go into movies. We go into entertainment. We have one game where you identify the covers of the People's Sexiest Man Alive covers and you have to put those in chronological order.
And lucky for audiences and the contestants on the show, just because the party has moved from Hayes' house to NBC, doesn't mean that the hilarious antics of the show's participants stop at the sight of the cameras. Rumor has it that Amy Poehler and Jason Sudeikis get a little tipsy during their appearance, Martin Short hams it up for the camera, and Dax Shepard proves himself to be a very competitive opponent when it comes to his favorite games. As for the best celeb contestant yet, Lynch says to look out for Fred Armisen, whose quiet and calm person is just a front for his devious playing abilities.
As for anyone who wants to apply to be on the show, and get their chance at that $25,000, Lynch has simple words of advice.
"Just be ready to play and have a lot of fun and, you know, play - come to have fun and don't be afraid of looking stupid," she says. 
Hollywood Game Night premieres Thursday, July 11 at 10/9c on NBC.