Jane Fonda To Play Nancy Reagan In 'The Butler'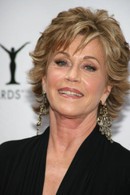 Jane Fonda is in talks to portray former U.S. First Lady Nancy Reagan in a new movie.

The Oscar-winning actress is slated to join the cast of The Butler - a new film about longtime White House employee Eugene Allen, who served under eight American Presidents.

Forest Whitaker has reportedly signed on to play the title character.

Precious: Based on the Novel 'Push' By Sapphire director Lee Daniels is onboard to make the movie.