'Jane By Design' Challenge 6: Inspired By Pretzels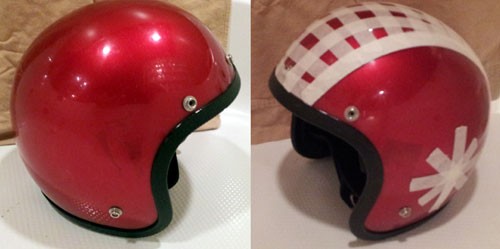 Riding a motorcycle is all about customization. I tricked out my 2002 Harley Davidson with an Evil Knievel sissy bar and a handpainted gas tank.
Personal style is also important when you're on the open road. Motorcyclists take their riding gear seriously - from leather jackets and chaps to fancy bluetooth-enabled helmets and heated gloves.

The sixth "Jane By Design" style challenge forced us bloggers "to be inspired by everyday life. The ability to translate your inspiration into something fresh and unexpected that takes the fashion world by storm is a rare gift."
I was instructed to create something amazing using pretzels (!) as an inspiration. I went to my chopper roots and used a vintage red motorcycle helmet. Looking at the shape of Snyder's Pretzels snaps and sticks, I taped a fun design on my skid lid.
Go HERE and share ways in which YOU are inspired to make fashion out of unexpected items. Don't forget to mention that Starpulse sent you!