Jamie Oliver Discovers Treasure Trove In Restaurant Basement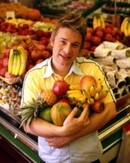 British celebrity chef Jamie Oliver has struck gold while building his latest restaurant after discovering a $1.8 million treasure haul in the basement, including master tapes by rockers New Order.

The TV star is converting an old bank in Manchester, England into an eatery and builders discovered hundreds of safety deposit boxes dating back to 1935 while renovating the property.

After failing to trace any of the owners, officials from the Bank of England drilled open the boxes and found thousands of dollars worth of gold, jewelry and master tapes by bands such as Joy Division and New Order.

A source tells Britain's The Sun, "There was all sorts in the boxes - even a gun in one."

The haul of items has now been handed over to the Treasury, while the Jamie's Italian restaurant is set to open its doors on Tuesday.

Oliver quips, "It's going to be one of the jewels in the Jamie's Italian collection."