Jamie Foxx Supports Down Syndrome Foundation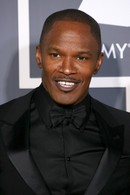 Oscar winner Jamie Foxx has been working closely with the Global Down Syndrome Foundation.

The Ray star, whose younger sister DeOndra Dixon suffers from the condition, has been a longtime supporter of the organization and recently took the stage with his sibling at a charity fundraiser in Denver, Colorado.

And although Foxx insists their relationship is sometimes "challenging," he wouldn't trade it for anything.

He tells People magazine, "One thing people may not understand is that the person with special needs, the love that they give you is unfiltered. There is nothing in the way of them loving you and there is nothing in the way of them being upset with you either. You really get the true individual."

"It's challenging, but it is moments like this that make it all work. She's a superstar now."