Jamie Foxx Moves Divorced Parents Into His Home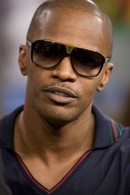 Actor/singer Jamie Foxx has moved his mom and dad into his new California avocado farm home, even though they've been divorced for 18 years.

The Ray star is surrounded by members of his Texas family in his sprawling mansion - and he admits it gets crazy at times.

Foxx explains, "My biological mother now lives with me along with my stepfather, who lives with me... Other than that it's cool. It's like I'm raising kids."

But the Oscar winner worries his mom might find a boyfriend and bring him home: "I don't want walk down and find some dude... at breakfast."