Jamie Foxx Honors Victims Of Sandy Hook, Trayvon Martin At MTV Movie Awards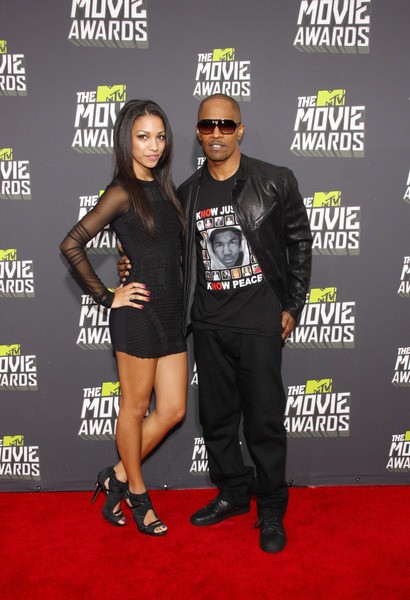 Jamie Foxx honored the children who died at Sandy Hook Elementary school in Newtown, Connecticut, and Trayvon Martin at the MTV Movie Awards in Los Angeles on Sunday night.
The actor, who received the Generation Award at the show, wore a t-shirt emblazoned with the faces of Martin and the school children who tragically lost their lives. Surrounding the photos were the words "Know Justice, Know Peace."
Foxx said of the shirt, "It's just a little blip just to keep our minds... just think about the children. My daughter's here, 19 years old... We're just protecting our kids. That's all it is."
In his acceptance speech, Jamie thanked Oliver Stone for casting him in Any Given Sunday, giving him a chance to prove himself on the big screen. Foxx would go on to win Best Actor for his role in Ray in 2004.
He also said, "Anytime somebody tells you that you can't do something, make sure you do it, because somebody told me that I wouldn't be able to do music and movies."
Foxx also won the Best WTF Moment with Samuel L. Jackson for the climactic scene in Django Unchained.
See the complete list of MTV Movie Awards winners here.