Jamie Chung Parties In Vegas & Re-enacts 'Hangover II' Marshmallow Scene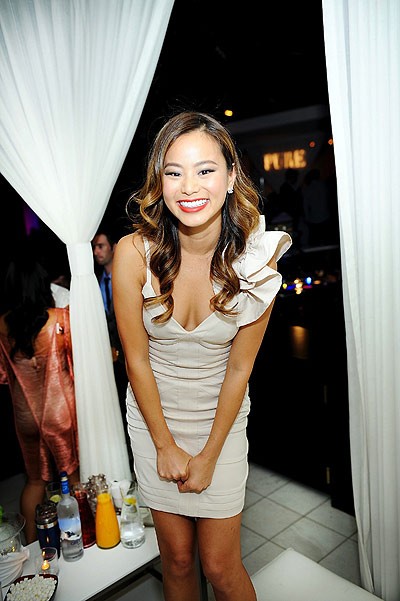 Last night, actress Jamie Chung from The Hangover Part II and Sucker Punch spent the night partying with friends at PURE Nightclub inside Caesars Palace. Arriving just after midnight, the sizzling starlet dazzled on the red carpet as she posed for pictures before heading inside to host the scintillating party.

Known for turning heads and capturing the eyes of men across the world, the exotic beauty graciously greeted her fans as they stopped her throughout the club and made her way to the VIP table. Once she got to their area, the energetic star kicked the party off right by taking shots of Patron and dancing with her friends. She even spotted a few male admirers on the dance floor and opted to go down and meet them. Unlike most celebrities, the down-to-earth movie star frequently left her VIP area to go hangout and mingle with the crowd. As she made her way through the packed club, the masses started to swarm Chung, which she didn't seem to mind as the very modest actress fit right in. She was pleased and happy to meet everyone, and even made some of the guests' night as she took photos, danced, drank and partied with them.

Later in the night, Chung poked fun at her character in The Hangover Part II as she grabbed a bowl of marshmallows and reenacted a scene from the movie.

During the rest of the soiree, the svelte hottie mesmerized clubgoers with her irresistible looks and charm and sipped on vodka cocktails while partying into the early hours of the morning.