Jamie Bamber: One of TV's Top Actors Returns in 'Monday Mornings'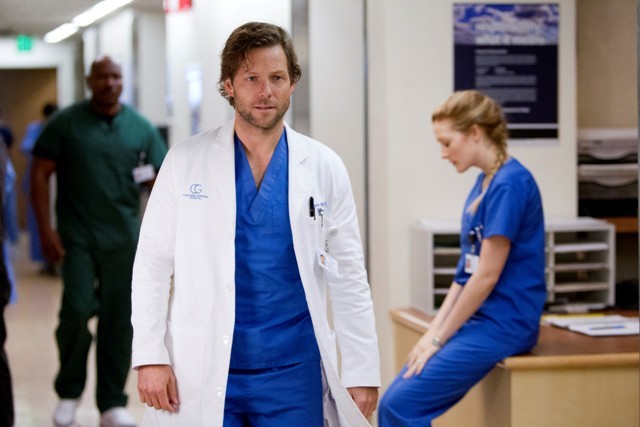 Bamber has a lot to be proud of. While American audiences likely know him best from Battlestar, that's only one role on the resume. To think of him solely as Lee Adama is to see only one aspect of what he's capable of. Watch him in the BBC's Outcasts, where he's only there for an episode but travels a complete character arc by the end of it. He played a true villain in the second season of Dollhouse, and yet even then was impossible to hate, because he had somehow humanized a character who smashed the lead character's head into a desk. Ordinary actors can't do that.
Ordinary actors can't create Matt Devlin, who could've been a walking cop-show stereotype but instead became one of that genre's most memorable characters. And it's happening again with Wilson, who could easily be another handsome playboy doctor, yet even by the end of the pilot, is so very clearly not that guy - but he is someone you want to trust with your life.
This is not to overlook Bamber himself, who is as humble and approachable as they come. As our conversation continues, I can't help but smile. I've wanted to meet him for years, and he's everything I hoped he'd be. He's a real leading man, not just in the sense of being able to carry a TV series but also because he's a true gentleman off-screen as well.
Television seems to be the medium where you're most likely to find him; Monday Mornings is his third series-regular role in the last nine years, not counting recurring guest spots on Body of Proof and TNT's own Perception. That isn't by design, but he's not complaining.
"It's definitely how it's worked out," says the actor, who'd like to do more film work, as well as try his hand at writing, producing or directing someday. "But I do think TV is going through an extraordinary era. I've gotten more joy from watching TV in recent years than film. There's something extremely rewarding about following characters that you like and knowing that there's as many hours of viewing as you have the appetite for. You can tell more complex stories, you can create more complex characters in the longer form."
Now Bamber is about to create another memorable character, and he's excited at the prospect. "I couldn't be happier with where I am," he says. And we couldn't be happier to have him back.
Monday Mornings premieres tonight at 10 PM ET/PT on TNT - but you can read BFTV's early review of the series now and check out our visit to the set. Stay tuned for our recap of the pilot immediately afterward.
For more from Brittany Frederick, visit my official website and follow me on Twitter (@tvbrittanyf).
(c)2013 Brittany Frederick. Appears at Starpulse with permission. All rights reserved. No reproduction permitted.