Jamie Bamber: One of TV's Top Actors Returns in 'Monday Mornings'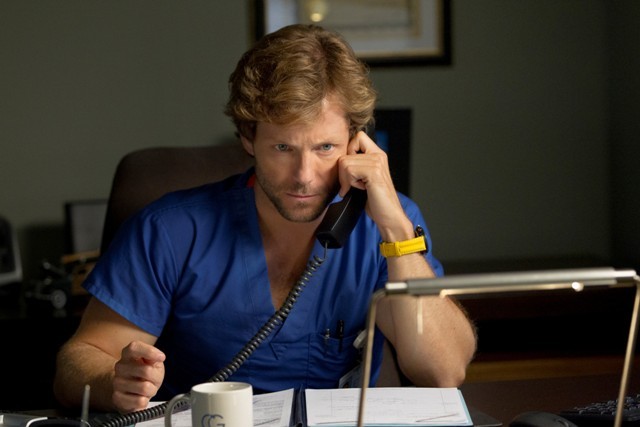 Asked how actually playing the part compares to what he might have envisioned when he signed on for the job, he explains, "It's better. It's better because the ingredient you don't know when you read a script is the other cast. You don't know what that's going to be, and then you meet them and you realize that these are people I actually want to spend time with and I admire their work, truly talented people."
That extends to the creative team behind the scenes as well. "I'd never worked with Bill D'Elia, the director and also showrunner, before and he creates family," Bamber continues. "He has this team around him that he's worked on many shows with before that works, functions, he enjoys being with. Even when he's not directing an episode he comes down on set just to hang out. And there's a vibe that we all want to be together."
Playing Wilson tests the actor's versatility, requiring him to play much more than the stock hotshot surgeon at the center of the story. In the pilot episode, Wilson - who is described in terms like "confident" and "arrogant" - does make that aforementioned mistake. The scenes that follow are heavy material, the television equivalent of being punched in the stomach. How does Bamber handle moments that are that tough?
"I bring the feeling beforehand, I think," he says. "It's with me all day until I get to the necessary scene, because I know that I have got to have that experience as real in my mind to play the scene. I'm not the kind of actor that can go completely cold into an emotional scene. I have to transport myself emotionally by whatever means possible, and that basically means you carry the situation with you all week, all episode or all day beforehand."
Characters who face the most difficult things on a daily basis aren't new territory for the actor. He's done plenty of heavy lifting over his career, from his early roles as Archie Kennedy in the Hornblower series and HBO's acclaimed miniseries Band of Brothers, to his breakout role as Captain Lee "Apollo" Adama in the reimagined Battlestar Galactica, and more recently as Detective-Sergeant Matt Devlin in the first five series of ITV's Law & Order: UK.
As he was on Battlestar, Bamber was a fan favorite on LOUK. His final two episodes are nothing short of gut-wrenching, above and beyond what you'd expect from a police procedural, ending in his character's heroic death. It's the general consensus that the show is firmly divided into Bamber and post-Bamber periods, and hasn't been the same since.
"The thing about Law & Order: UK, which I loved doing and I loved [his co-star] Bradley [Walsh]," he says, reflecting on Devlin's demise, "I was very pleased to have it done in a good way and I was very satisfied with it. I am very proud of the show."