James Wolk: The One to Watch in 2013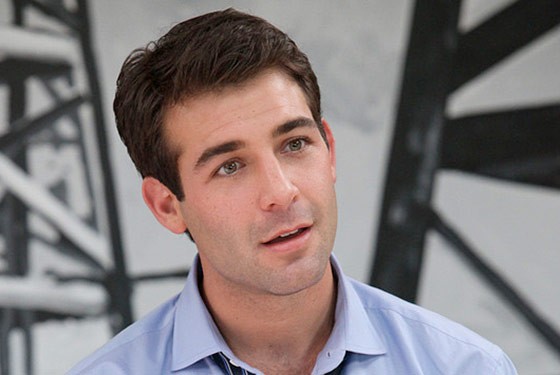 After Front of the Class, the industry took notice. Two years later, James hit the big screen alongside Kristen Bell and Odette Annable in You Again, playing Will Olsen, the main character's pretty much perfect big brother who is revealed to be engaged to her high school nemesis. It could've easily been a throwaway supporting role, but he fully realized the character, including an applause-worthy scene in which a frustrated Will takes both his sister and bride-to-be to task after the two have a major fight.
And once again, he charmed his colleagues. "He's so sweet," said Annable, who played Will's fiancee, Joanna. "He's the sweetest, sweetest man. I really had such a great time with him and I'm so proud of him. He's doing such great things in his career. He was such a doll to work with."
The same year, James was also starring in a one-hour drama for FOX called Lone Star. Created by Kyle Killen, who would go on to pen Awake for NBC, the show focused on a con man named Robert Allen, living two lives in two Texas cities, and creating tension with his less than reputable father when he makes the decision to try and legitimately maintain both of them. Playing Robert gave James his first TV series lead role, but he didn't have a lot of time to process the attention that came with the accomplishment.
"It happened like lightning," he says. "It just came out of nowhere and all of a sudden, especially with a one-hour drama of network television, you're just in the midst of so much work. I didn't even really have time to thin about what we were doing. That character had a double life, it was almost like double work. There were so many stories to be told. It was really a wild ride."
Many critics embraced the series as one of the best new shows of the season. Unfortunately, FOX didn't share the same high opinion, and FOX pulled the plug on Lone Star after just two episodes. They then cancelled a planned Saturday late-night burn-off, so five completed installments remain on the shelf years later, in one of the great tragedies of modern television.
What would've happened had the lights stayed on? James reveals that it was only going to get more complicated. "It was such an intricate story," he explains. "I think the last we saw of Robert, he was juggling the two wives and the two lives. When the show ended, we were in the midst of getting him in a lot of trouble. I think ultimately what would've happened would've been incredible. Kyle Killen is unbelievable and his brain is on a different level."
Although Lone Star's lifespan was painfully brief, it established James as someone who could carry a television series, both in terms of talent and work ethic. Many of the show's glowing reviews cited his performance in the leading role. Before Matt Bomer made waves with White Collar, James was just as impressive as Lone Star's con artist, making him believable as both a man capable of leading two separate lives, and a protagonist that the audience should root for despite that fact. His Robert Allen was someone who had chosen a bad way in life, but was at heart a good person, better than many others around him.
If you're one of the many who missed Lone Star entirely, here's a promotional trailer for the show, courtesy of YouTube.