James Van Der Beek Talks 'Don't Trust The B---- In Apartment 23'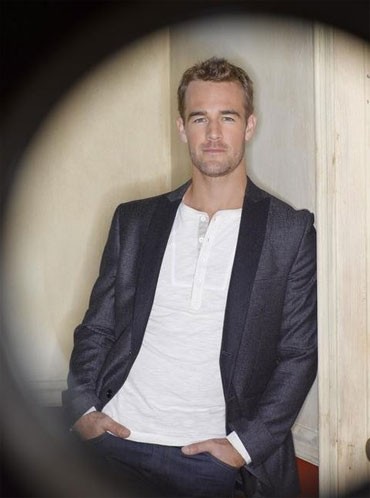 The new ABC comedy Don't Trust the B---- in Apartment 23 is making headlines for it's scandalous title (B---- is for "bitch") and the B---- worthy behavior of its main character. It should be more widely known that the show features the comeback of James Van Der Beek. Not only is Dawson Leery back on TV, he's playing James Van Der Beek!
The show's B---- is Chloe (Krysten Ritter), is a comedic manipulator who seems to have her roommate's best interest at heart. Among her wacky antics, she is friends with television actor James Van Der Beek. Van Der Beek is amping up his star diva behavior for the show and he spoke with the Television Critics Association in January about his self-mocking turn. Don't Trust the B---- in Apartment 23 premieres April 11 on ABC.
Q: Do you take any cue from the NPH angle when you play a character based on yourself?
James Van Der Beek: You know, he did it really well and it's actually more in the vein of Harold and Kumar that there's almost no resemblance.
Q: Can you go that far on TV?
JVDB: Absolutely, we do go that far.
Q: Was he a big influence?
JVDB: You know, I just did a How I Met Your Mother and I talked to Neil about it and I've known Neil over the years. The fact that he did it so successfully really was a positive example. What really made me do this was the strength of the script and the supporting cast. It was nice to see somebody did it well.
Q: Do you fear if the show doesn't take off, you'll have to change your name to get work?
JVDB: If only I had a stage name. What's fun is it's an opportunity to do comedy on a regular basis which I haven't really had a chance to do. I did guest spots here and there so I'm having a lot of fun.
Q: Do you fear the audience will confuse you with your character since it's your real name?
JVDB: If I was afraid of that, I wouldn't have taken the job.
Q: Did you take it immediately or did you have to think about it?
JVDB: I mean, I have to think about anything I do but yeah, I took a pause. I thought all right, this is something I'm going to do and then it really wasn't even a choice. The script was so strong.
Q: Do you think audiences now are more savvy to actors spoofing their own character since we've also seen Matt LeBlanc and Larry David do it?
JVDB: Yeah, I think the whole evolution of Facebook and Twitter and all this social media, I think people get it now. I think there was a time when people really thought that people on a scripted show were that character. Now audiences are so savvy, they really get it. So I think there's a lot less chance of people confusing this bizarre version of myself for me.
Q: Is it fun to have a supporting role instead of a lead?
JVDB: It's great. When you're in an ensemble that's this strong, it's so much fun because when you're the moral center of the show, your boundaries are pretty much set in terms of what you can do and still do your job in terms of your function on the show. The audience still has to like it, they have to follow you, care about you. What's great about being a supporting cast member is there're no boundaries. I can go absolutely crazy and just go to places where people would never expect me to go. You really can have a lot more fun. The leash is so much longer.