James Spader Tells What Drew Him To 'The Blacklist'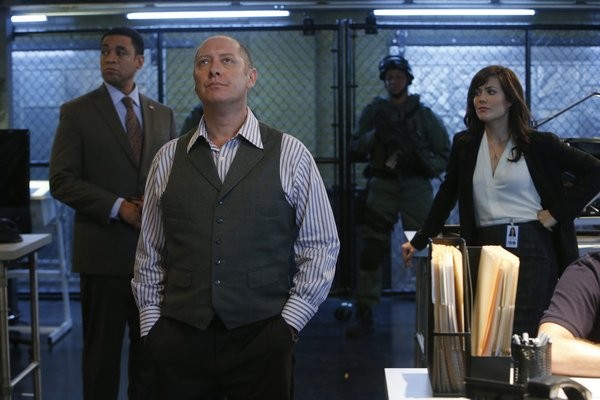 Will we ever get an idea of what made Raymond Reddington transition from company man to one of the nation's most wanted criminals? We've already learned that he had a military career, wife and family he abandoned before his rise to infamy. "I think that's going to be sort of eked out slowly over the course of the episodes," the actor speculated. "[As for] a sort of overall history lesson, I don't think it will ever happen on the show. I think it'll be over the lifespan of the show that you start to discover more and more about him."
By virtue of playing the character, Spader has information about Red and The Blacklist's mythology before viewers do - but how much does he want to know? We asked him if he preferred being told important plot points in advance, or allowing himself to discover them with each new episode.
"It really depends on the medium I'm working in, you know," he said. "I mean, in theater, you know everything going in. In film, you know a little bit less but still an awful lot. And in television you know very little. And I think that's fine for me. Working in theater or film or television are three different sorts of jobs for an actor and I accept them as such, and the volume of material on a television show is so vast that I think that it helps in a way if it's surprising from week to week.
"I've never been a big TV watcher," he continued. "And so for the first time, when I first started working on the series, I got the feel what it felt like to be a viewer and then I was so anticipatory about the next script that was going to come in, and then what direction we're going in and how the story might unfold and how relationships might evolve or what kind of mess we might be getting into next. With this show, it just seems like the possibilities for that are limitless. It has sort of an inherent surprise factor just because you know so little going in.
"I like that aspect of it a great deal and I also [like] being able to find the piece of material that's sort of growing and fun to watch - and then also can be very dark and quite serious, but also at times can be funny and humorous and irreverent. This show sort of marries those things very well and I like that because it's just more exciting and compelling, I think, from an actor's point of view. It's just a much more compelling job."
Spader has another job in his near future, having been cast as Ultron in the highly anticipated sequel The Avengers: Age of Ultron. Asked how that might impact his commitment to The Blacklist, he told us, "I'm hoping that it's going to be a fairly smooth transition but, you know, I don't know. We'll wait and see how long The Blacklist plays, whether it plays a full season. If it plays a full season, then I'm sure I will be packing my bags in the last few days of our production on The Blacklist, in preparation to get over to London and start shooting The Avengers."
NBC subsequently ordered a full 22-episode season of The Blacklist, so Raymond Reddington will be keeping Spader - and audiences - busy for awhile.
The Blacklist is all-new tonight at 10 PM ET/PT on NBC.
(c)2013 Brittany Frederick. Appears at Starpulse with permission. All rights reserved. No reproduction permitted. Visit my official website and follow me on Twitter at @tvbrittanyf.