James Roday, Steve Franks Promise 'Twin Peaks' Episode Of 'Psych'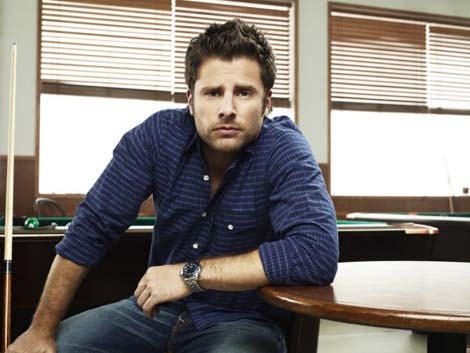 "Psych" star James Roday and Executive Producer/Writer Steve Franks promise a "Twin Peaks"-inspired episode of the popular USA comedy.  Starpulse just participated in a conference call with them, and they talked about the series' fifth season, which kicks off next week.

"Twin Peaks," which became a national phenomenon in 1990, was director David Lynch's brainchild that blended dark comedy and surreal drama.  It focused on the small-town murder of high schooler Laura Palmer, and became known for its quirky humor, atmospheric mystery and critical acclaim.  It also starred "Desperate Housewives" regular Kyle MacLachlan as hero Special Agent Dale Cooper. 

Starpulse got the exclusive scoop when we asked Roday about his love of the '90s hit, and whether it'd serve as a theme for an upcoming "Psych" episode, as "Jaws" and Hitchcock films did previously.

"It's happening," Roday confirmed.  "It's been simmering for a while, like a fine Italian sauce."

Franks specified the "Peaks" homage will appear in episode 12 of this season, and that Roday will be co-writing with "Psych" writer Bill Callahan.

Roday noted he had "terribly high expectations" for the show.  "We'll do everything we can for die-hard fans, casual fans and those unfamiliar with the series," he said.  "We'll deliver a good mystery with lots of laughs."

Franks said the "Peaks" tribute will definitely air, "unless something terrible happens in development.  Then we'll just do a swimming pool episode."

What about the future relationship of Shawn (Roday) and Juliet (Roday's actual girlfriend, Maggie Lawson)?

"The Shawn and Juliet relationship is all about Shawn being ready for Juliet.  We think he's really close," Franks revealed.  "I know we've dog paddled around it a lot, but we're going to stop dog paddling, and start going with the current."

"He also starts wearing deodorant this season," Roday joked of his character.

What are their favorite '80s reference from the forthcoming season?

"The living embodiment of the '80s will be on the show," Franks said.  "Curt Smith from Tears for Fears.  He's been mentioned on the show numerous times and he'll be on the show, as himself.  He'll also be re-recording the theme song."

When asked his favorite, Roday concurred with Franks: "Ditto, ditto, echo.  Put it in a box."

Season 5 of "Psych" premieres Wednesday, July 14 at 10 p.m. EST on USA.


Scenes from "Twin Peaks":



"This is -- excuse me -- a damn fine cup of coffee."
See more photos from "Psych" here!