James Roday & Dule Hill Talk About 'Psych's' Upcoming Season

Good news "
Psych
" fans, the wait is over! Your favorite fake psychic Shawn (
James Roday
) and his faithful wingman Gus (
Dule Hill
), return with their hilarious and unique brand of detective work, when the fourth season of "Psych" premieres on Friday, August 7 at 10 PM ET on the USA Network.
We had a chance to chat with the show's stars Roday and Hill, on what they have in store for fans this upcoming season, their experiences at Comic-Con, and which celebrities they would like to have on the show.
How do you guys keep this show so fresh?
Roday:
It's a good question, and I think part of the answer is that all of us, from producers to writers to actors and everybody, is sort of hyper aware of what you just said. You couldn't have a group that was sort of more acutely aware of not getting complacent, of recognizing how important it is to not become predictable and to not get stale, because it happens to so many other shows. And so when we go to break stories and we're on set it sort of pushes us, quite frankly, to not settle for stuff that feels like it could be better and that's sort of the way we've been treating the show from the beginning.
And while it may get more and more challenging the longer that we last the truth is we don't ever want to be considered one of those shows that dropped off after season blank and then was just sort of on autopilot until the end. And I don't think anyone will ever sort of break in that regard; we'll always continue to challenge each other and make sure that everybody is working as hard as they possibly can.
Hill:
And I think it's very easy to, I guess, just to do what you think works. I think, as Roday was saying, we keep challenging ourselves to keep raising the bar, to keep staying engaged, and even as the actors on the set to keep staying connected and staying alive each time we do it.
And then also I think certain things we try to make sure we don't run certain things to the ground, like Gus is not going to run screaming out every episode. After you find yourself doing certain things for a while you kind of say okay, let's go someplace else with it to keep the characters alive.
What adventures do you guys get into this season?
Roday:
In terms of sort of themes for episodes you saw that we're doing sort of an expedition Canada, catch a jewel/art thief episode, and we're doing sort of a Shawn and Gus save an old western town and everything that comes along with that that you could imagine, including a grizzled, gray bearded
James Brolin
.
Hill:
Exorcism episode.
Yes, we're paying tribute to the Exorcist with our exorcism episode featuring the aforementioned
Ray Wise
, who is just fantastic in the episode I have to say. Just really came in and knocked it out of the park.
Hill:
American Werewolf in London
homage.
Roday:
That's right, a little love letter to American Werewolf in London and werewolf movies in general featuring
David Naughton
, obviously, and Josh Malina. And lots of other fun stuff.
I have to say I think we're kind of storming out of our gates this year with some really good stuff. I think last year we stormed in our heads, but we were actually like trotting at a casual pace, and this year I actually think we're storming out of the gates for real.
I know that you've had your first experience at Comic Con, how was it for you guys?
Hill:
I actually loved it. I wished that I wasn't so tired, because we had worked the night before in Vancouver and we flew down to LA I guess Wednesday and then I got up and flew to Comic Con Thursday morning. So I was pretty exhausted, so I wish I had more energy to be able to walk around. So I'm hoping to be able to go back next year and make sure I get some rest.
But I enjoyed it. It was great being there with all the fans and seeing people's reactions. I enjoyed seeing the different outfits that I did see. Hopefully we'll get a chance to do it for many more years.
Roday:
Yes, I was absolutely blown away. I mean working up in Vancouver, to an extent, sort of puts us in a bubble. To be able to come face-to-face with our fans and see their reaction I felt like the fourth Jonas Brother and I feel like Dulé was the fifth black Jonas Brother.
Even though it was only for an hour it was just an overwhelming, heartwarming response. I don't want to go as far as to say it's like a validating thing, but you really sort of felt for a moment there like wow what we're doing is connecting with people, and that's the best feeling you can have as an artist for sure.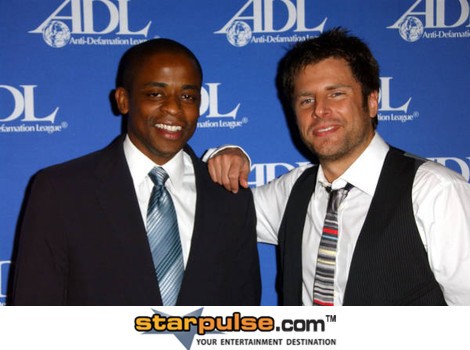 Dule Hill - James Roday © PR Photos
Which one of you is the most like your character on the series or are you completely different?
Roday:
I think we're both pretty different. I do. I think that's one of the things that is really cool about our show is that we have as much fun as we do, A, and B, we get to play characters that are pretty different from our real life personas.
Hill:
But actually going back to someone's previous question about useless information I would say that Roday is more like Gus in that area, especially with film trivia, '80s trivia. He and Steve Franks can lift off songs on an album.
You guys have such great chemistry on the show, does that come naturally?
Hill:
I think so; I think it comes naturally. From the time we first got together there was a good vibe there, and we've had a cast that continued to grow with it. I think even off screen we get along very well. The cast as a whole we like hanging out with each, making each other laugh, going out having dinner, playing poker, playing mafia. It's just us up there in Vancouver, so if we didn't get along then I think it would show itself on screen. So I would say it comes pretty natural.
Roday:
I agree with all of that.
The show has had a ton of fantastic guest stars. Who would you like to see on the show and whom do you think they would play?
Roday:
My answer is going to stay the same until we get him on. The answer is
David Bowie
, and anybody he wants is whom he will play.
Hill:
And for myself I would like to get someone like
Chris Tucker
on the show. It would be great if he could play some kind of, I mean he could play anybody he wanted to also, but he could play some kind of relative of mine or something. It would be a lot of fun.
Roday:
I think David Bowie could also play David Bowie if he wanted to, and Shawn and Gus could just have an episode where they hung out with David Bowie.
Hill:
I think David Bowie could play Mr. Guster in season five.
Roday:
He could.
Hill:
There you go-because we change my dad all the time. Like dude, your daddy is David Bowie.
Roday:
That would be fantastic.
The fourth season of "Psych" premieres Friday, August 7th at 10PM ET on USA.
Story by
Caron Jackson
Starpulse contributing writer