James Murphy Releasing His Own Coffee Blend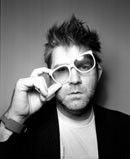 LCD Soundsystem star James Murphy has become the latest celebrity to launch his own coffee blend.

The musician is a coffee enthusiast and recently took a training course to learn more about beans and blends from an expert - and now Murphy is developing his own espresso.

He tells food blog GrubStreet.com, "I make a lot of coffee. For my birthday, my girlfriend got me a training course with the world champion. That's what I'm going to do when I get back to London (make my own brand). I thought it would be fun. I have beans that I like. I like this sometimes and that sometimes. Sometimes in the middle."

And Murphy is already holding discussions with a retailer about stocking his coffee.

He's not the only star creating his own caffeine fix - cult singer/songwriter Will Oldham, filmmaker David Lynch and Megadeth frontman Dave Mustaine have also been touting their own coffee.