James McAvoy Mixed Up About Christmas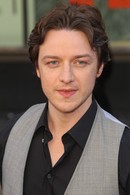 Scottish actor James McAvoy has mixed feelings about Christmas because he grew up believing Santa Claus threw gifts down the chimney and always answered children's letters.

The Arthur Christmas star was convinced St. Nick dashed around the world on Christmas Eve, dropping gifts, and he was disappointed when he discovered that wasn't the case.

McAvoy tells WENN, "I thought Santa had a big sleigh. I thought there was one reindeer. I didn't realise there were many reindeer. I thought he threw the presents down the chimney. I didn't know Santa went down the chimney with the presents.

"I also wrote a letter to Santa twice and I didn't get it answered, so I stopped writing. I was left disappointed."