James McAvoy, Angelina Jolie & Morgan Freeman Star In 'Wanted,' On DVD Dec. 2

James McAvoy
(
Atonement
) and Academy Award® winners
Angelina Jolie
(
Mr. and Mrs. Smith
) and
Morgan Freeman
(
The Dark Knight
) star in the sexy, visually stunning, action thrill-ride
Wanted
, coming to DVD and Blu-ray Hi-Def on December 2, 2008 from Universal Studios Home Entertainment. Visionary filmmaker Timur Bekmambetov, creator of
Day Watch
and
Night Watch
, two of the most successful films in the history of Russian cinema, brings his incomparable imagination and innovative cinematic style to bear on the explosive story of an ordinary man transformed by destiny into a powerful assassin. Based on Mark Millar's explosive graphic novel series, Wanted blazes new cinematic trails with double-barreled surprises around every corner. Director Bekmambetov leads his extraordinary cast, which also includes Thomas Kretschmann (
King Kong
),
Terence Stamp
(
Star Wars: Episode 1 - The Phantom Menace
) and
Common
(
American Gangster
), through a twisted maze of intrigue packed with two-fisted action.
With its visually inventive effects, experience
Wanted
at its best on Blu-ray Hi-Def. With picture perfect visuals and flawless DTS-HD Master Audio 5.1 sound, the high definition version of
Wanted
can be viewed on any Blu-ray player or PlayStation®3. Only on Blu-ray Hi-Def, fans can get an exclusive look at the film's never-before-seen alternate opening, go deeper into the making of the film's mind-blowing effects in crystal clear high definition, and via the power of BD-Live, host a text chat with friends while watching the movie in synchronization.
Wanted
is available in several home entertainment versions, including single-disc widescreen and full frame DVD editions, 2-disc Special Edition DVD and Blu-ray Hi-Def versions, and deluxe collector's sets. The limited edition 2-disc versions and collector's sets include a digital copy of the film. Perfect for holiday gift-giving, the deluxe collector's set features collectible packaging pierced with a bullet, creating a shattering effect to the outer case. Fans will also enjoy the gift set's photo book of assassins, collectible postcards and acrylic frame motion 3-D film cell.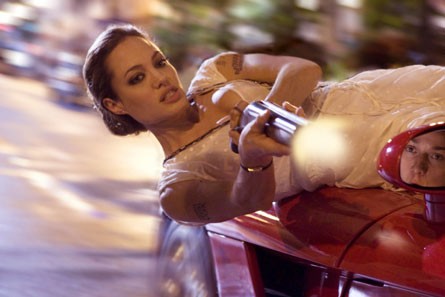 All The Most Wanted Bonus Features
The 2-disc Special Edition DVD, Blu-ray Hi-Def and collector's sets are packed with over an hour of exciting bonus features, including:
·Extended Scene – Be the first to view this killer extended scene from
Wanted
.
·Cast and Characters – Go behind the scenes with Angelina Jolie, James McAvoy, Morgan Freeman, Thomas Kretschmann and Common as they discuss their roles in the film and their experiences on set.
·Stunts on the L Train – Stunt coordinators Nick Gillard and Mic Rodgers explain how cast members Angelina Jolie and James McAvoy performed the astounding elevated train stunt sequence.
·Special Effects: The Art of the Impossible – Special effects supervisor Dominic Tuohy explains how his team pulled off the stunning special effects throughout the film and how Angelina Jolie contributed to the action.
·Groundbreaking Visual Effects: >From Imagination to Execution – A look at how the spectacular visual effects in the film were pre-visualized and executed.
·The Origins of
Wanted
: Bringing the Graphic Novel to Life – Creator Mark Millar, producer Marc Platt, director Timur Bekmambetov and screenwriters Michael Brandt, Derek Haas and Chris Morgan discuss the original graphic novel and the process of adapting it for the big screen.
·Through the Eyes of Visionary Director Timur Bekmambetov – A video portrait of director Timur Bekmambetov, featuring interviews with Angelina Jolie, James McAvoy, Morgan Freeman, Common, producer Marc Platt and the director himself.
·
Wanted
: Motion Comics – Watch as the graphic novel comes to life on screen with narration and sound effects.
·The Making of
Wanted
: The Game
·"The Little Things" Music Video Mash-Up (Please note this feature only appears on the 2-Disc Special Edition and the standard definition collector's set.)
Exclusive To Blu-ray Hi-Def
In addition to the aforementioned bonus features, all shown in high definition, the
Wanted
Blu-ray will also include the following bonus content:
·Alternate Opening – View this exclusive alternate opening, only on Blu-ray Hi-Def.
·Exclusive U-Control: Universal's exclusive signature feature U-Control allows viewers to delve into the making of the film with the click of the remote without ever leaving the movie.
-
Wanted
: Motion Comics: See how the graphic novel compares to the movie in this real-time, side-by-side BD exclusive
-Scene Explorer: Explore the onscreen action from up to three different perspectives in this multi-angle feature.
-Assassins Profile: Get the high-tech low-down on each assassin's strengths, weapons, and position with your own in-movie surveillance system.
-Picture in Picture: Access cast and crew interviews and behind-the-scenes moments while you watch the film.
· BD-Live – The new technology that allows viewers to connect to the Internet and access new exciting exclusive online and interactive features.
-My Chat: Using your internet-connected player, host a text chat with your friends who also own
Wanted
on Blu-ray™ Hi-Def while you watch the movie in synchronization!
-My
Wanted
Commentary: Connect and Create. Ever wish you could create your own play-by-play movie commentary to share with friends? Here's your chance. UniversalHiDef.com and the BD-Live Center combine to offer you the opportunity to create your own video, audio, or text commentary that you can share with all of your Buddies in the BD-Live community.
-My Scenes Sharing: Show your friends your favorite scenes from
Wanted
via BD-Live.
Wesley's (McAvoy) life is over – his pathetic, old one, anyway… Fortunately, it is all because of a girl. Enter sizzling-hot Fox (Jolie), who crashes into his life and introduces him to the Fraternity, a secret society of assassins, lead by the mysterious Sloan (Freeman). Seems Wes's long-lost father was killed while working for the Fraternity and Wes has been selected to target the rogue member who murdered him. But before he can complete his assignment, Wes must first uncover the dark secrets behind the Fraternity in order to determine his own destiny.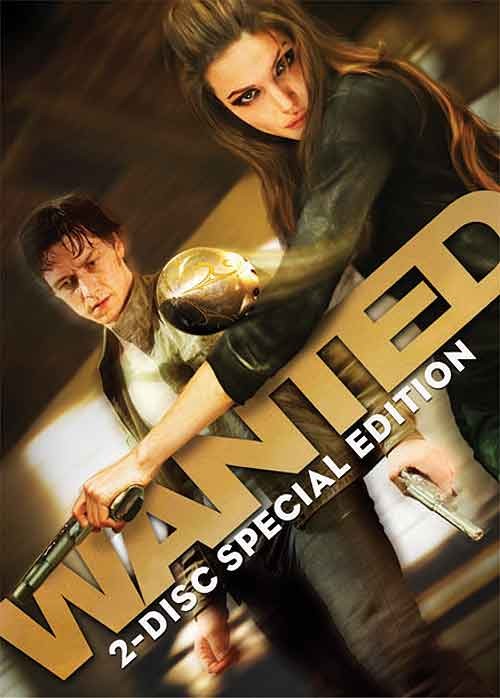 Wanted: Weapons Of Fate Interactive Game Blasts Into Stores In 2009
Fans of the movie 'Wanted' can continue the thrilling action and visual style of the film in 2009 with 'Wanted: Weapons of Fate' the videogame on the Xbox 360® video game entertainment system from Microsoft, Games for Windows®, and PLAYSTATION®3 computer entertainment system. The game, produced by Universal Pictures Digital Platforms Group, published by Warner Bros. Interactive Entertainment and developed by GRIN, picks up after the film with an original story and intense gameplay featuring iconic moves such as "Curving Bullets" and "Assassin Time" drawn directly from the film, as well as an innovative, multi-layered cover mechanic.
Universal Pictures Digital Platforms Group (UPDPG) is responsible for global digital product development, production, licensing, distribution, and growth strategy for the extensive catalog of Universal's properties across new and emerging digital platforms, including mobile, video game consoles, personal computers, and other portable devices. With a worldwide mandate to help shape the digital future of Universal Pictures, the Group has offices in Universal City, California; London, England; and Tokyo, Japan.
Warner Bros. Interactive Entertainment, a division of Warner Bros. Home Entertainment Group, is a premier worldwide publisher, developer, licensor and distributor of entertainment content for the interactive space across all current and future platforms, including console, handheld and PC-based gaming for both internal and third party game titles.
Universal Studios Home Entertainment is a unit of Universal Pictures, a division of Universal Studios (www.universalstudios.com). Universal Studios is a part of NBC Universal, one of the world's leading media and entertainment companies in the development, production, and marketing of entertainment, news, and information to a global audience. Formed in May 2004 through the combining of NBC and Vivendi Universal Entertainment, NBC Universal owns and operates a valuable portfolio of news and entertainment networks, a premier motion picture company, significant television production operations, a leading television stations group, and world-renowned theme parks. NBC Universal is 80%-owned by General Electric, with 20% owned by Vivendi.
Click the pics for gallery & larger images