James Franco Tries To Describe 'Castaway' In One Second On 'Tonight Show'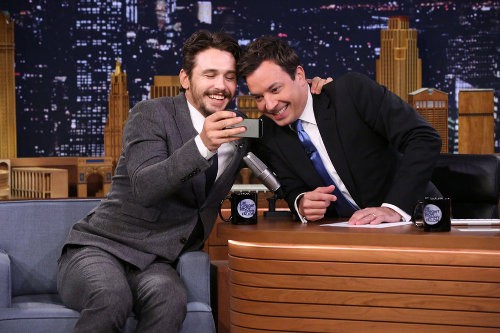 James Franco and Jimmy Fallon are very competitive guys, so when Jimmy invited James onto The Tonight Show he had to make him play a game.
James immediately questioned the host's trustworthiness when Jimmy described "5-Second Summaries," during which one of them will try to describe a movie in five seconds without using a word in the title. "Don't.. not guess just because you want to win," Franco said, "... because you beat me last time with the skee-ball thing. I don't want to lose again." Back in 2011, when Jimmy hosted Late Night, he and James played life-sized skee-ball with the audience holding buckets.
This time around, however, Jimmy as in James's domain: films. However, it didn't help that it appeared the rules were constantly changing. When James got American Pie as his film, he said, "It's Jason Biggs and he's humping a pie!" The "judges" didn't award any points because James said "Pie," to which he responded, "F—k!" Jimmy quipped, "You can't say that either."
After Jimmy was unable to say much of anything to describe Toy Story, the two were told they couldn't name actors in the film. When James said "Neo!" for The Matrix, it was decided they couldn't name characters, either – this is getting complicated!
Watch the videos above to see what movie Jimmy describes as "A bunch of girls – they send slacks to each other in the mail."