James Franco Prepares For Another Gay Scandal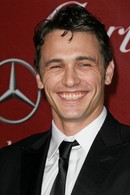 Actor James Franco is preparing himself for another gay scandal after revealing he will appear to perform a sex act on another man in a new biopic.

The 127 Hours star, who played a homosexual in Milk and gay poet Allen Ginsberg in Howl, has been dogged by rumors about his sexuality for years - and even threatened legal action against the New York Post when a reporter questioned him about claims he was the closeted actor dubbed The Gay Rapist the newspaper had published a blind item about.

The journalist claimed he had spoken to a man who suggested he had broken off a romance with the actor after a fight.

He tells Playboy magazine, "My lawyer said, 'Run that and we will sue because there has been no police report filed'. They didn't run the stories. My lawyer looked up the Facebook page of the guy I'd supposedly been dating, and it turned out he was actually a young lawyer himself...

"His Facebook page mentioned me as his 'dream date' or something. Well, if I'd been dating him for six months (as he claimed), why was I his dream date? When my lawyer called and asked about it, the guy freaked out and said, 'Oh yeah, I heard about that too. So weird. I don't know James.'"

That stopped the story, but there was more to come when scandal website Gawker.com picked up the 'Gay Rapist' mystery and created a readers' poll around who the unidentified movie star was. Franco came out on top and his lawyer called the editors to ask if they would remove the story.

He recalls, "They said, 'Well, we're just reporting what the New York Post told us. If James wants to make a comment on our blog, we're happy to report it...' It's a shame that at the same time I became involved in this completely false and offensive story, I was in Milk, a movie I felt strongly about."
And now he's waiting for the next round of gay scandal attached to him, telling Playboy, "Some more great rumors will be coming up - I have a film coming up that I directed about the poet Hart Crane, and I give (oral sex) in that movie."