James Franco Paints Seth Rogen Naked, Shares Them Online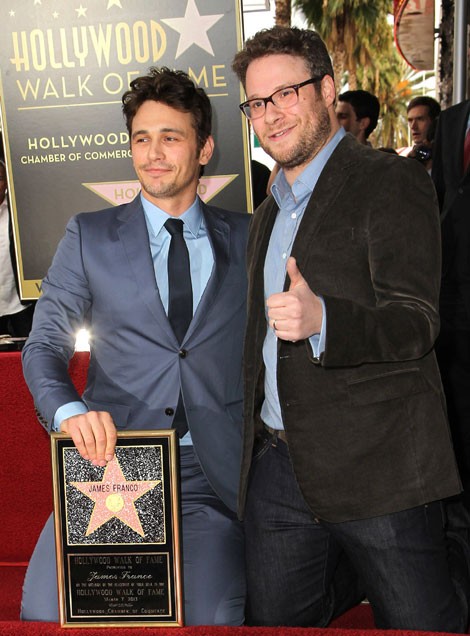 Is James Franco and Seth Rogen's bromance going a little too far? Franco has a new artistic endeavour, and his muse is his "Pineapple Express" co-star.
Franco has depicted Rogen in a series of nude paintings. He shared a few on Twitter, writing: "Seth Rogen nude paintings - get ready!!! Theyre coming!!!"
The images show Rogen stretched out naked on a bed with the words "Big Bear" and kneeling over as he looks through his legs with the caption "Seth At Play." Over 40,000 people have "liked" the image.
Last November, the pals filmed a spoof of Kanye's West's "Bound 2" music video, which depicted the actors  imitating the video by smooching shirtless on the back of a motorcycle.
In March, Franco and Rogen spoofed Kim Kardashian and West's VOGUE cover. Rogen photoshopped their heads onto the couple's body, with Franco embracing Rogen in a wedding dress.
Perhaps the nude paintings are payback?