James Dean's Love Letters To Go Under The Hammer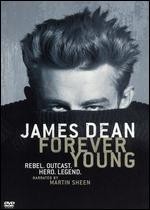 Movie icon James Dean's letters to his former girlfriend are to be auctioned off in a new sale.

The screen legend's notes to his ex-lover Barbara Glenn, who he dated for two years, contain personal anecdotes about feeling homesick during the filming of a movie and his criticisms of a Broadway show he appeared in.

In one of the three handwritten letters, Dean calls the stage version of The Immoralist "a piece of s**t."

The three letters, which are being sold by Glenn's son, filmmaker Keith Gordon, are to be auctioned off separately when they go under the hammer at Christie's in London in November. They are expected to make a total of $25,724.

Gordon says, "They were all young actors starting out and struggling together. She never discussed their romance in great detail, but I did know Jimmy was her first serious, grown-up relationship.

"It was apparently very intense and involved numerous break-ups and reconciliations, but she often remained his confidant even during some of the 'off-again' times. Eventually my mother met my father Mark Gordon, an actor and director, and broke it off with Jimmy to go with my Dad. Jimmy actually gave her his blessing to leave, even he knew that what they had was too fraught with drama to ever be stable."

"I hope that a fan or collector can gain as much pleasure from owning these letters as my mother clearly did from receiving them, and as I did in learning more about my mother's history."

Dean died in a car accident in 1955.