James Bond Only Bonds With Women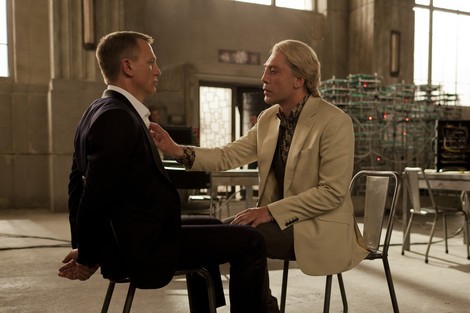 Acclaimed for his hi-tech gadgets, sensuous women, mesmerizing charisma & high flying action packed thrills; James Bond has a set of trademark eminent attributes that embody his unmistakable persona and the prevailing Bond a.k.a Daniel Craig totally endorses the same.
His latest proposition 'Skyfall' showcases a scene between the debonair Mi6 agent James Bond i.e. Daniel Craig and his adversary Roula Silva played by his co actor Javier Bardem wherein; Javier is seen touching Bond's legs and chest rather naughtily suggesting a sexual advancement with Bond responding saying "What makes you think this is my first time?" The scene sparked a few speculations and controversies to the possibilities of a bisexual or rather explicitly gay facet of the Bond character. When asked if he could picture a gay James Bond? - Daniel Craig simply said-No.
However, current Bond girl Naomi Harris reveals a rather more liberal view in terms of James Bond's sexuality, was quoted saying 'I think everything is open. Everything is open. Who knows?' Further expanding her horizon she's even open to a girl playing the bond character.
Daniel Craig married to actress Rachel Weisz had starred for the third time as the character James Bond & the latest being 'Skyfall' that's reportedly lighting up the box office in terms of collections worldwide. Daniel's also been reported to have been signed up for the next three ventures in the James Bond series.
Skyfall is now playing.


Via: CableTV.com