Jaleel White Says 'Dancing' Fight Rumors Are 'Totally Exaggerated'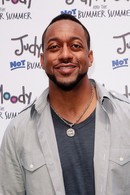 Actor Jaleel White has moved swiftly to brush off reports he was involved in a "vicious fight" with his Dancing With The Stars partner while rehearsing for the TV talent show.

The former Family Matters star, best known as geeky Urkel in the sitcom, was said to have shouted at Kym Johnson and called her an "idiot" during the heated confrontation on Friday, which was allegedly sparked after he accidentally stepped on her foot.

A source told UsWeekly that producers were forced to intervene after fellow competitors Donald Driver and Mark Ballas attempted to break up the argument.

White and Johnson have now spoken out to set the record straight, with the actor insisting their relationship is a friendly one.

He explains, "It was completely and totally exaggerated. We go to work, and there's an alley full of tabloid reporters. And it's not fair to us, but that's life. And I hope people can see through it."

Johnson adds, "Everyone has stressful weeks - good weeks, bad weeks. It was more of a stressful week, but it wasn't anything like the tabloid story... We've got a great connection and we're having fun. We really don't fight!"